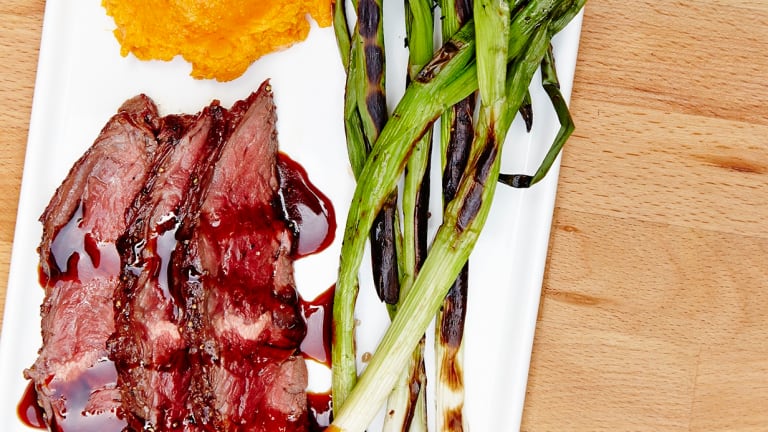 Chef Secrets to the Perfect Steak
For the perfect steak meal, look no further than these mouthwatering recipes straight from professional award winning restaurant and catering chefs. Learn how to make restaurant-quality meat at home, and save yourself a trip out to a restaurant when your meat craving hits this summer!
MORE: The Perfect Steak: Cooking and Grilling Tips
This simple yet perfect marinated Crescent Steak is brought to you by Chef Moses Wendel of Pardes Resturaunt, Brooklyn, NY.  
Chef's Tip: 
The crescent steak is really hard to overcook and probably the best cut for those who want a tender steak but prefer to cook their steaks above medium.    
MORE: Grilled Chicken: 3 Meals, 1-Time Prep
RIB-EYE STEAK WITH TARRAGON POTATOES
Chef Seth Warshaw, from Steakhouse Teaneck, NJ shares how to make the best homemade hearty steak and potatoes.  
Chef's Tip: What to do if I do not have a grill? 
If you do not have a grill, you can use a cast iron skillet. For anything cooked under medium, you will cook the steak on the pan and not in the oven. Season the steak with salt and pepper, add some oil to the pan and sear one side, allowing a golden crust to form. Flip the steak over, lower the heat, and finish cooking.    
MORE: Ribs 101
RED WINE MARINATED CHUCK STEAK
Chef Gabe Garcia of Tierra Sur brings you this recipe for Red-Wine Marinated Chuck Steak, rich with Baron Herzog Cabernet wine and full of fresh flavors.  
Chef's Tip:
Remember to pat steak dry to ensure a solid sear!
MORE: Shmaltz Galore: Mouthwatering Recipes with Duck and Chicken Fat
This perfectly grilled hanger steak comes from Chef Ari White, of the revolutionary kosher BBQ company, The Wandering Q.
Chef's Tip: Grill Your Vegetables and Spring Onions:
Sweet Potatoes: Wrap sweet potato in aluminum foil well. Place in your grill and cook for about 30 minutes. Peel and mash.    
Spring onions: Sprinkle a bit of oil and place on the grill with steaks. Takes about three minutes and highlights the sweetness of scallions with the added benefit of an easy, impressive way to bump up presentation.
MORE: The Ultimate Way to Grill Corn
Straight from Chef Alex Reznik's recipe collection, from Ditmas Kitchen (L.A.) & Bedford Kitchen (Queens, N.Y.), comes this mouthwatering meat filled sandwich, sure to satisfy.  
Chef's Tip: Make it a Salad:
Place arugula, red onions, and sliced pickles in a large platter.
Top with sliced minute steak London broil.
Drizzle with spicy mayo.
Top with toasted bread or pretzel bun and fried egg, if you wish.  
Recipe published in JOY of KOSHER with Jamie Geller Magazine Summer 2015 SUBSCRIBE NOW
Want stories like this delivered right to your inbox? Sign up now for our *free* JOY of KOSHER Newsletter.