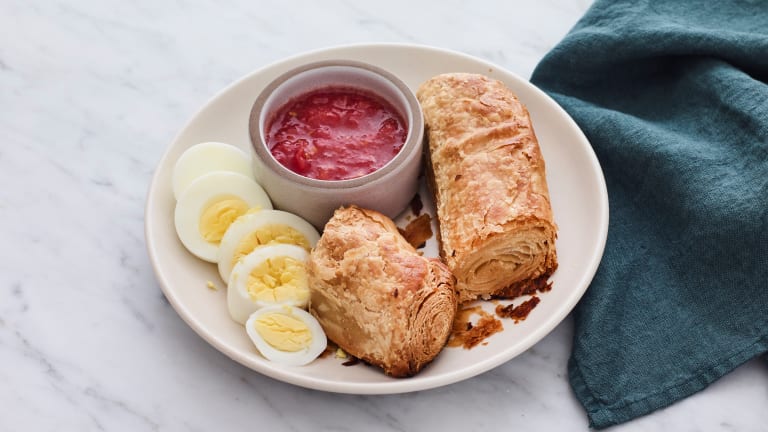 How To Cook Jachnun and What To Serve It With
Jachnun is a yemenite pastry traditionally served on Shabbat mornings. Unlike Malawach, another yemenite bread that is fried and savory, jachnun is cooked low and slow in the oven overnight which results in a slightly sweet flavor. 
Jachnun is not really bread, nor is it pastry. It is somewhere in between. If you have never had it, it is sort of like puff pastry rolled up tightly and then cooked, and cooked and cooked.
When the jachnun is done, it is flaky, fragrant, and fun to eat.
Typically served with roasted eggs (yes, they cooked right along the jachnun), the eggs are tasty, funky, and interesting.
The Yemenite Jewish bread is a welcoming Shabbat morning, or any morning, treat.
Jachnun takes 10+ hours to cook, so plan ahead.
You can make jachnun from scratch, but it is easy to purchase frozen packaged loaves in most kosher or Middle Eastern markets.
Grease a pan that has a cover or use aluminum foil. Arrange the loaves, while frozen, in the pan.
Place eggs right on the jachnun; the eggs make cute little divots in the loaves.
Cook jachnun at 225°F to 250°F overnight.
Serve with schug (Yemenite hot sauce), hummus, grated tomato dip, and the roasted eggs, of course.
Unroll the jachnun and tear off a warm hunk. Dip and enjoy!
Jachnun is fun. Something about dipping the warm crunchy flaky pastry in fresh tomatoes makes for a lively and interesting start of the day.