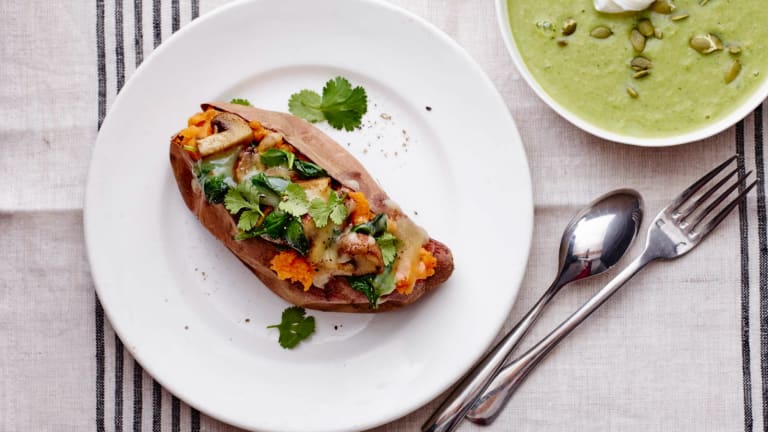 How to Turn Sweet Potatoes Into Dinner for One or More
There is nothing better than a simple baked sweet potato with melted butter or yogurt it is filling and loaded with nutrients, but it isn't usually dinner.  That is all about to change with these 3 amazing recipes that show you how you can turn the simple baked sweet potato into a full meal easily adapted from few to many.  
Choose your favorites and then make your own with the leftovers you find in your fridge and let us know in the comments below. 
CHIPOTLE MUSHROOMS STUFFED SWEET POTATOES
This recipe was created for the 28 Day JOY of KOSHER Challenge by Jamie Geller and Tamar Genger MA, RD.  At only 300 calories it is a tasty meal you can enJOY for lunch or dinner any night of the week.  
MEDITERRANEAN CHICKEN STUFFED SWEET POTATOES
Revamp your leftover chicken dinner into a mediterranean mix of chickpeas and olives and stuff into a sweet potato for the best rightover dish ever. 
BLACK BEAN CHILI STUFFED SWEET POTATOES
Use our recipe for this chili stuffed potato or use your leftovers to make dinner tonight extra easy.  
Now that we have stuffed sweet potatoes with chicken, chili, and mushrooms it's time to try your own - what would you fill a sweet potato with?