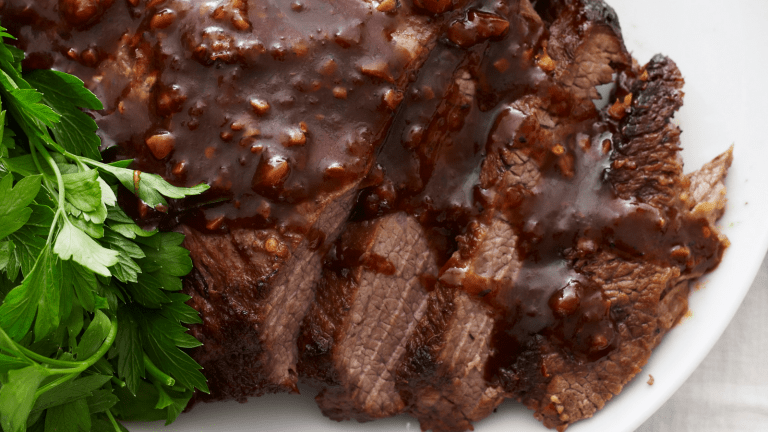 Jamie Geller's Brisket 101 As Seen On The Today Show
Jamie is estimated to have cooked a few hundred briskets since her first cookbook was published. BBQ Brisket, Overnight Brisket, Slow Cooker Brisket and Instant Pot Brisket, featuring various international inspiration from Mexico to Israel, represent just a few of the methods and flavor profiles she has mastered. 
Jamie shared her tremendous knowledge, general passion for cooking and obsession with Brisket on Megyn Today sharing her easy to master and easy to remember tips, tricks and techniques for Perfect (Every-Time!) Classic Brisket. Plus Jamie shared two of her family's (kid-friendly!) brisket leftover recipes with Megyn Kelly on The Today Show.
Inspired by everything she knows and loves - Jamie wrote the book on brisket. Brisket 101 features 30 of the best brisket, side, slaw and leftover recipes around. Also learn Jamie's 3 Golden Rules For Perfect Brisket, All About Aromatics, How-To Build Your Braising Liquid and Deglaze, Marinating 101, How-To Make Your Own Spice Rub plus a Special Section on Slow Cooking. You'll be empowered to invent your own recipes once you learn Jamie's easy (to make and easy to remember) techniques. The sky's the limit when it comes to riffing on this holiday and comfort food classic - that spans generations, cultures and seasons. Become a brisket master today. BUY BRISKET 101 NOW!
CLICK HERE FOR THE E-BOOK. 
WATCH JAMIE COOKING BRISKET WITH MEGYN KELLY ON THE TODAY SHOW: 
4 JEWISH CLASSICS YOU MUST TRY TODAY
2. Bittersweet Chocolate & Pumpkin Babka