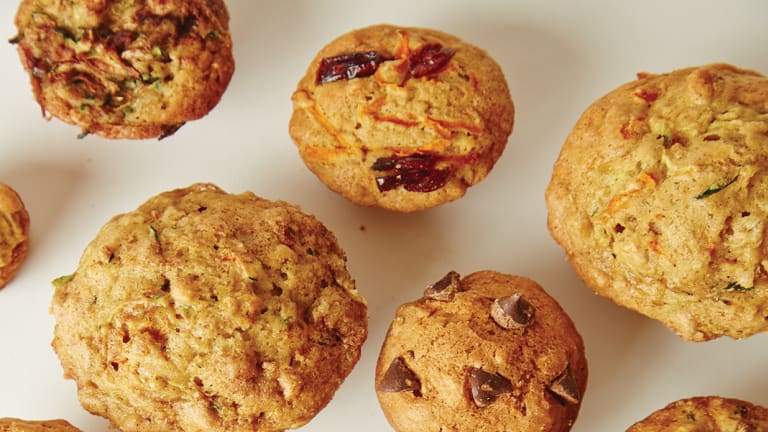 One Recipe, Endless Muffin Variations
You say cupcakes, I say muffins! Gosh, I would hate to lose my popularity with the junior cupcake crowd, but many years of catering kids' parties and watching their delighted faces as they lick their fingers, tells me there's no danger of that happening. 
As if that was not enough, my granddaughter recently described to me a birthday party she went to and said to me, "The only thing I didn't like is I had to wipe off all those blue and green and red creams off the tops. Bubbie, why do they need it?" Yes, why indeed? 
I make muffins, yes muffins, and make them festive in ways that are not expressed in extra sugar or added coloring; no frosting or icing whatsoever. To name just a few examples: 
Make mini muffins
Use multicolored muffin liners
Sprinkle the muffins with

 miniature chocolate chips
grated coconut
grated apple 
blueberries
chopped nuts

Stick cute flags and candles into them at display time
All these muffin batters are mixed by hand, no need for a mixer. I am keeping them pareve so you can serve them anytime, but of course it would be perfectly okay to make them dairy and use milk.
THIS BASIC MUFFIN RECIPE can be adapted to any palette. Try all the variations and you're guaranteed to discover your favorite! 
 Variations:
 (All substitutions in equal amounts)

FLOUR
For the all-purpose flour, substitute whole wheat pastry or spelt flour.
GLUTEN-FREE
For gluten-free (GF) substitute any GF flour plus 1 teaspoon xanthan gum (health food stores). 
Make sure the GF flour mix includes a third tapioca flour.
MORE: Gluten-Free Challah Muffins
OIL
Substitute coconut or flax oil, or olive oil marked "light."'
MORE: Dairy-Free, Low-Fat, Cranberry Pecan Maple Muffins
EGGS
Use 4 egg whites instead of the 2 eggs, if you are watching your cholesterol.
Vegan: If you are egg-restricted, use ½ cup flax mixture (½cup warm water mixed with 2 tablespoons flax meal).
MORE: Savory Spinach and Cheese Muffins
MIX-INS
For raisins, substitute dried cranberries (only if you use cranberries, add 1/4 cup sugar or sucanat to offset their sourness) or other chopped dry fruit (prunes, apricots, dates, figs, etc.)
For grated apple, substitute 2 cups packed grated carrots or zucchini, or 2 cups unflavored plain canned pumpkin, or 3 ripe bananas diced small, or 2 cups fresh or frozen blueberries marked IQF or IFF.
For walnuts, substitute almonds or pumpkin, flax, sesame, chia, hemp, poppy, or sunflower seeds.
 Throw in 1 cup semisweet chocolate chips.
 For cinnamon, substitute ground ginger, cardamom or allspice, lemon zest or orange zest.
 For rolled oats, substitute barley, quinoa, spelt, soy or other flakes.
Throw in a cup on unsweetened grated coconut.
MORE: Levana Kirschenbaum's Healthy Burgers with Variations
Recipe originally published in Joy of Kosher with Jamie Geller Magazine Fall 2014 Subscribe Now