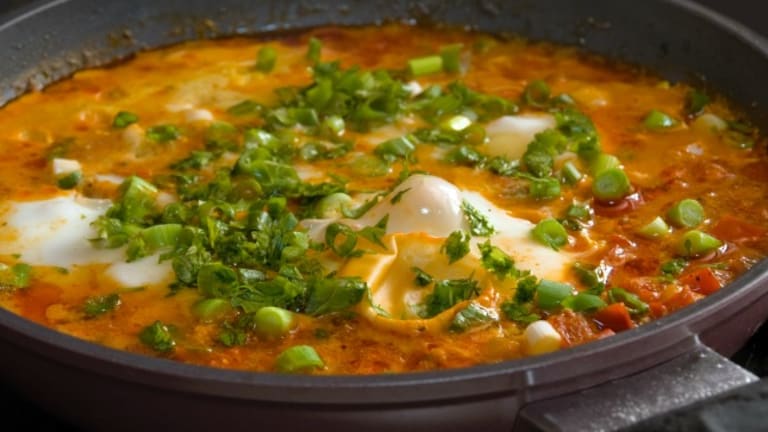 JOY of ISRAEL: The Best Shakshuka in Jerusalem
Where can you get the best shakshuka in Jerusalem?
We asked our loyal readers to help us find the best versions of everything Israel has to offer. We asked the people of Israel. We asked our friends. We asked tour guides. We asked foodies... And now the results are in! 
Scroll down for recipes you can try at home...
Be the first to know! Follow our weekly #JOYofISRAEL updates on Facebook and Instagram.
The Best Shakshuka in Jerusalem
Reader's Choice Winner:
Tmol Shilshom (Center of Town)
The cozy bookstore-café located in Nahalat Shiva opened in 1994, named after the novel by Nobel laureate S.Y. Agnon. The name "Tmol Shilshom" can be translated into "Yesterday, the day before" or " those were the days". 
The building is 130 years old, and was originally a residence but was sold into a commercial property following the changes of Jerusalem of 1970. In 1996, an extension was added to the cafe to add seating and a hall for literary events. What makes this place special is that it is known to be a hub for Israel's best writers including Yehuda Amichai, Amos Oz, A.B. Yehoshua, David Grossman, and Batya Yur, just to name a few.
Their menu boasts three shakshuka options: Hearty Morning House Shakshuka with layers of roasted delicious peppers., Baladi Shakshuka with eggplant and labaneh, plus a Vegan Shakshuka served with tofu covered in thyme, parsley and onions, peppers, and eggplant. All are served with tahini, Israeli salad, olive tapenade, pesto. homemade bread, freshly squeezed juice, and coffee.  
"Friday brunch is the best-Shashuka at Tmol Shilshom!!!" - Daniella Silver, This American Mama
"The food is not only superb, but the atmosphere and vibe there is so interesting and stimulating, especially during one of their events." - Chana Mason, Nachalot and the Shuk Experience Tours
MORE: Create an Israeli Cafe in Your Own Kitchen
Runners Up...
Nocturno Cafe (Downtown Jerusalem)
"Nocturno cafe is one of the most popular cafes downtown. You can see there every day tons of students eating and studying while enjoying fresh and quality dishes, like organic Shakshuka, vegetarian Hamburger and alike. During the evening the place hosts Jazz sessions and small bands, so the atmosphere there is always great."                                                                                                                                                -Michael Weiss, founder of GoJerusalem.com
"Falafel Oved, a neighborhood falafel joint on Jerusalem's Beit Lechem Road in Baka, Oved offers a nearly perfect shakshouka — piping hot, firm eggs, piquant tomato sauce — served in a pita."
- Mordecai Holtz, New Media Director for ITravelJerusalem (follow them on Twitter @ilovejerusalem, Facebook, and Instagram @itraveljerusalem)
MORE: Health Benefits of an Israeli Diet
"The Green Shakshuka is incredible, full of green veggies and oozing with kashkaval cheese. Plus it comes with a fresh loaf of challah with olives and tahini. I topped it off with a Bailey's hot chocolate and it was heavenly!"                                                                 -Rachael Masri, JOYofKOSHER.com  
 Kalo (Baka)
"This local cafe has hearty sandwiches and serves some unique alternative shakshukas."                                                                                                                                    -Mordecai Holtz, New Media Director for ITravelJerusalem (follow them on Twitter @ilovejerusalem, Facebook, and Instagram @itraveljerusalem)
WATCH: How to Make Easy Shakshuka 
Shem Tov Restaurant (Machane Yehuda Market, Nachalot)  
"Try the Eggplant & Feta, Goat Cheese & Pesto or HumusShakshuka!"                             - Voted by readers on FunInJerusalem (Thanks to founder Joanna Shebson for the survey!)
 Humus Eliyahu (Shamai St.)
"Favorite for kids."                                                                                                                         -Voted by readers on FunInJerusalem 
MORE: It's All About the Egg...
A big thanks to our awesome experts for the insider's info!
If you can't come to Jerusalem, don't worry, we've got you covered! Here are our best shakshuka recipes....Enjoy!  
Don't miss out on the best, JOYofISRAEL.
Want stories like this delivered right to your inbox? Sign up now for our *free* JOY of KOSHER Newsletter.