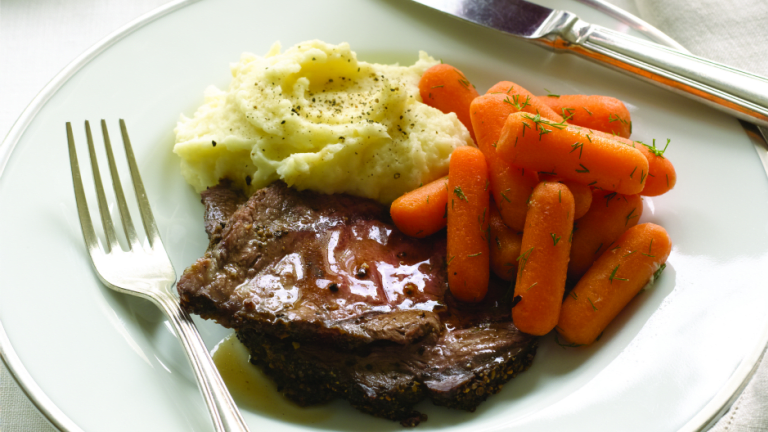 Yom Kippur Pre Fast Meal
Just before Yom Kippur, it's important to eat foods that make fasting easier - in fact it's a mitzvah. First, you want to minimize salt and spices that may induce thirst. But that doesn't mean the pre-Yom Kippur feast must be bland or boring. This menu is simple and satisfying and can mostly be made in advance.
A meal unto itself if you want to keep things light you can start here and skip right to dessert. I recommend using a low sodium chicken broth pre Yom Kippur. The soup freezes perfectly and can be made weeks ahead of time. Add spinach and orzo when warming just before serving.
Minute Roast with Pan Drippings
Also, here I suggest reduced sodium chicken or beef broth. As for the Montreal Steak Seasoning use a light hand right before the fast.
Pureed Parsnips. This side will leave you feeling lighter than a serving of mashed potatoes, perfect for pre-fast, add salt just to taste. The Pureed Parsnips will hold nicely for a day or two in the fridge.
Braised Carrots. I favor Earth Balance as my pareve margarine of choice and when I run out of it I use olive oil. Earth Balance has salt so most often I don't need to add extra especially Erev Yom Kippur. Like the parsnips these can be made in advance and rewarmed. Toss with additional margarine and fresh dill just before serving.
A rich and rewarding end to your meal just a small sliver will do. Pre Yom Kippur I suggest salt-free pretzels.
Wishing you all an easy and meaningful fast and a Gmar Chatima Tova (Literally: A good final sealing. Meaning: May you be inscribed (in the Book of Life) for Good!). Can I get an AMEN?!