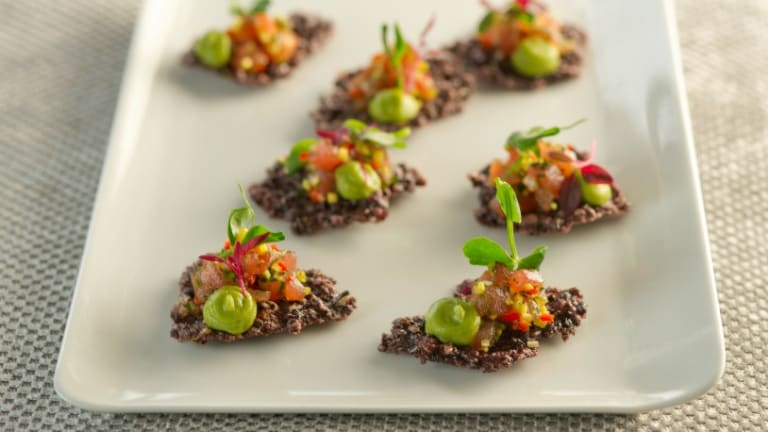 Travel Hacks: Kosher Cooking in Your Hotel Room
Whether for business or pleasure, travelling can be hard to do when you have to maintain kashrut in a non-kosher place.   The hard working mamas at Ima Kadima are familiar with the struggle, especially for work related trips or family outtings. So we asked them for some tips...Find out what to prepare, how to pack, what to consider, what to avoid, and what creative hotel hacks you can use to create a gourmet kosher meal in your own hotel room! (Plus some travel-friendly recipes from us at JOY of KOSHER, of course).
MORE: 15 Travel Friendly Recipes
CALIFORNIA RAISIN COUSCOUS WITH VEGETABLES
Our 4 favorite gourmet travel recipe hacks:
4. "Couscous can be made by just adding hot water and mixing in any chopped veggie and canned bean. Add protein to a salad by adding canned tuna, salmon, or sardines." -Lily Iskhakova
3. "We travel with one electric burner, one skillet, one spatula, a flexible cutting board, one good knife, one small pot...Find a good produce shop first thing upon arrival, and depending on location bring cooked meats or buy raw meat when we get there. Breakfast is usually hard boiled eggs or oatmeal (small pot). Lots of raw salads. Stir fry or chicken in skillet, or reheated food from home." -Anonymous
2. " You can make a hot meal in a hotel room by mixing instant mashed potatoes with pre-fried onions (usually found next to the instant mashed potatoes in the supermarket), hot water, salt, and butter. " -Orah
1. "Bring tons of tin foil and wrap sandwiches up multiple times, then iron them to toast them!"    -Sophie Krim
HOMEMADE CINNAMON APPLE INSTANT OATMEAL PACKET
MORE: Have Food, Will Travel
Kosher Travel Do's and Don'ts:
DON'T
Don't bring electrical appliances that have a different voltage than your host country without an appropriate adapter. 
Don't rely on the electric kettles in the hotel room- other guests may have used them to cook food as well! Bring your own if you can. 
Don't use electrical appliances that aren't allowed in the hotel.
"I once took an electric grill along with meats for proper BBQ dinners- was amazing on vacation- until the housekeeper saw it and left us a nasty lil' note saying it was not allowed in the hotel room!"    - Sheera Scherman
DO
Do bring lots of disposible plates, napkins, cups, and silverware. 
Do bring tupperware to store leftovers in your mini-fridge.
Do look for health food stores in the area. These stores are more likely to offer animal-free or vegan prepared foods and ingredients, which are more likely to be kosher.
Do make sure you are packing your food within airport safety guidelines. (Are you checking that bag?) You don't want your food thrown out before you even get on the plane!
Do bring a knife and cutting board, plus a small pot or frying pan if there will be a kitcheonette.
  
BLUEBERRY AND CHEESE QUESADILLAS
MORE: DIY Grilled Cheese Bar
Grocery List:
Fruit:
Individual applesauce cups
Mixed fruit cups
Dried fruit
Just add water:
Instant cousous  
Instant oatmeal  
Quinoa
Vermicelli (rice) noodles
Hijiki seaweed
Coffee and tea
Kosher flavored gelatin packets
ASIAN TUNA TARTARE ON CRISPY RICE CRACKERS
Bread Alternatives:
Tortilla wraps
Crackers
Rice cakes
Don't forget the can opener!
Tuna 
Grape Leaves   
Beans
Healthy treats:
Granola

Nuts or trail mix
Peanut butter
Jelly
Tahini
Cereal bars
MORE: Travel the World Without Leaving Your Kitchen
Want stories like this delivered right to your inbox? Sign up now for our *free* JOY of KOSHER Newsletter.