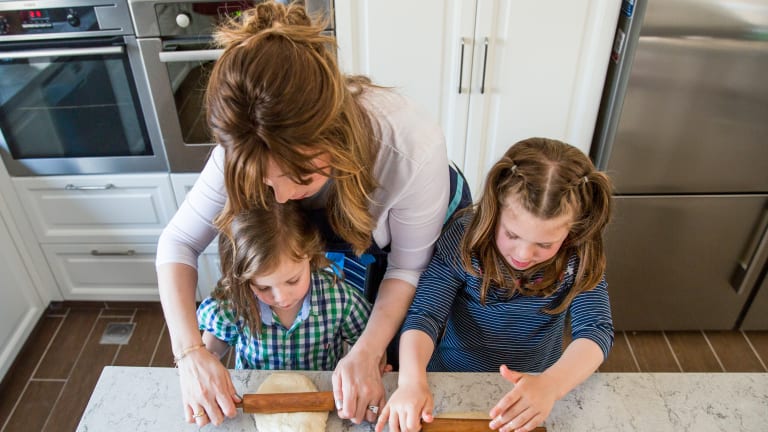 Age-Appropriate Kitchen Duties for Kids
Dear Jamie:
I would like to share my joy of cooking with my children, and you always say that the best way to do that is to get them involved in the kitchen. My kids range from age 3 to 11. What kitchen duties are good for each age group?
Dana, Washington DC
Dear Dana:
Excellent question: anyone who is eager to help you in the kitchen should be given the opportunity. I am all about equal opportunity. Of course, especially when it comes to kids, you have to keep in mind their abilities and/or limitations. So your question about age-appropriate tasks is right on target.
MORE: Ideas and Recipes for Cooking with Kids
First, you need to ensure that you keep the children safe. Adult supervision is necessary at all times.
So how do you convey "kitchen love" to your offspring? 
It can start really young – and I mean young. When my first child was born, it was just the two of us. I would bring her into the kitchen (to keep me from getting lonely, I admit) – and I would talk to her the entire time. It was like the play-by-play announcer at a basketball game: "Now I'm loading the dishwasher. Here goes the plate, oh and another plate, and the spoon, and the fork -- tossed, dropped, it's in!"
When your baby is big enough for a high chair, park him there with a wooden spoon and a plastic bowl. He can drum and feel like part of the action as he watches you. A ring of measuring spoons is a great toy too.
Toddlers are old enough to unload groceries, mix cake batter, set a table, and put snacks on plates. They can also knead dough, wrap potatoes in foil for baking, and shape cookies on a cookie sheet. This is the age that they learn about washing hands before prepping food. And they can be assigned simple clean-up tasks after cooking. They can put peelings in the garbage, even wipe down the counters.
At one point in their toddler years, my kids loved to be big helpers by taking things to the garbage for me, even if it was one bean or one item at a time. I would say "now this" -- they would waddle over to the garbage and put it in, and come back for more. "And now this" -- and they would go and come back again and again. I could keep them busy for 20 minutes that way. It was great!
Preschoolers can mash up bananas and cooked veggies with a fork or masher, and peel potatoes, cucumbers and other veggies. They love playing sous-chef; every professional chef has a sous chef, so why not you?
You can teach them about how to measure and add dry and wet ingredients and allow them to do this with your supervision. A preschooler is old enough to learn how to peel a hard-boiled egg. And you can look for opportunities to start working on basic math skills, as when you are doubling a recipe, etc.
Young grade school children are ready to take on more responsibility in the kitchen. They can spray baking pans with cooking spray, chop up veggies with a dull knife, and they can even be taught how to peel onions, garlic and potatoes! You can teach them how to wield a can opener – so long as it's safe to use. They can wash vegetables and fruit. At this age, many children have the coordination to crack eggs -- but be prepared to waste a few eggs until your child achieves this skill.
Fourth graders and older can follow recipes and instructions, operate small appliances, and plan basic meals. Show them how to make a shopping list for the meals they plan. Under your supervision, they are able to chop, fry, sauté, boil and broil. Once they learn these techniques, and the safety measures for them, take a couple of steps back and let them fly. The more experience they get, the more confident they will be in the kitchen.
MORE: Cooking with Kids Spaghetti Squash
Remember that having your children with you in the kitchen gives you a wonderful opportunity to teach them about food and nutrition, food safety and cleaning up after themselves. As with anything you are trying to teach, model correct behavior. Make sure that everyone's hair is tied back, and you are wearing aprons. Use oven gloves to remove baking trays from the oven, utilize pot holders to move pots on the stove. Cook on the back burners as much as possible, and face the handles toward the back of the stove. Whatever they see you doing, children will copy.
I'm not saying that your children will help you save time in the kitchen. Usually it's quite the opposite. Consider it a worthwhile investment. If you take the time to show the children how to wash hands correctly, the way you like the dishes washed, how to stack a dishwasher properly, how to clean and inspect vegetables – you both benefit. Then you will actually come to welcome their presence. It's a wonderful bonding experience. Moreover, you are giving them great skills and the priceless gift of confidence -- the kind of know-how that will enhance their cooking and everything they attempt in life.
MORE: Spin The Globe Dinners with Your Kids
What are your tips for cooking with kids? What's your best cooking-with-kids experience? Tell me your story. You know I want to know -- we all do. Leave a comment here and share your masterful "kids in the kitchen" secrets with all of us!