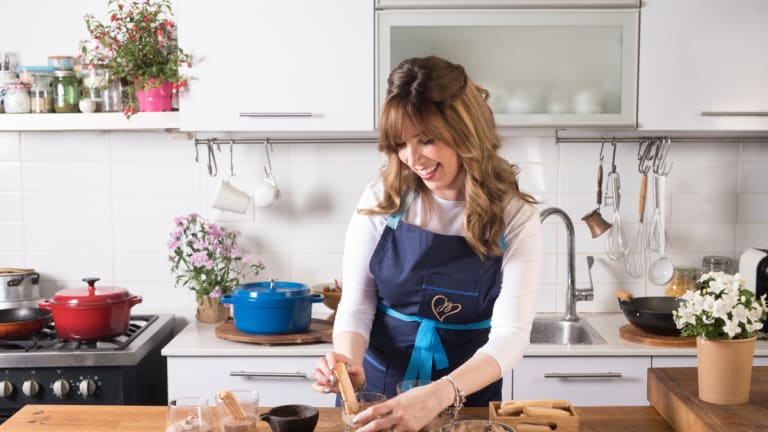 An Easy Yogurt Parfait Recipe for Those Surprise Guests
Surprise guests? No problem! Make this cool & kosher Yogurt Parfait Buffet in minutes!
So I'm always kicking myself - not an easy feat - for not blogging about the making of my second book, Quick & Kosher: Meals in Minutes I could have posted pictures of me writing, eating a bag of chips, crying, eating another bag of chips, going bonkers, eating another bag … OK so maybe you don't need photos of this cook in crisis. But it would have been fun to show you some behind-the-scenes stuff from a photoshoot, luckily you can see the photoshoot from my third book. Did you know it takes one amazingly talented photographer plus a team of six assistants to make a Pita Panini look good?
Anyways, when I was publishing my second book one morning my three PR agents and my publisher are on their way over to my house when I realize they may be expecting to eat something here. My kitchen is a total mess, I have no grown-up breakfast food in the house, and there's no time to shop! How tragic would it look for a cookbook author to serve Rice Krispies?
My favorite solution to a cooking quandary is... not cooking! 
So I opt for a yogurt parfait buffet instead. In pretty little blue and white bowls I got from Target (love their tableware!), I set out strawberry and vanilla yogurts, champagne mangos, plump blueberries, and faux granola. (Actually, I grabbed a bunch of my kids' Nature's Valley Granola Bars, put them in a bag, and pounded them until they crumbled like granola.) I set the table with the buffet running down the middle and stacked bowls, spoons and glasses within easy reach. I filled a beautiful glass pitcher with fresh water and orange slices and… voila! I was ready to entertain! Quickly changing out of my pj's, I race to the living room, breathlessly position myself casually on the couch, and wait for my company.
The funniest part of this madness is they loved the spread! 
They said things like "so chic... so fresh... so inviting!" The kicker – they asked if I made the granola. I had to laugh. Don't worry I didn't lie.
What is your favorite easy entertaining idea? Leave me a comment and let's get this conversation going because we can all use some inspiration.