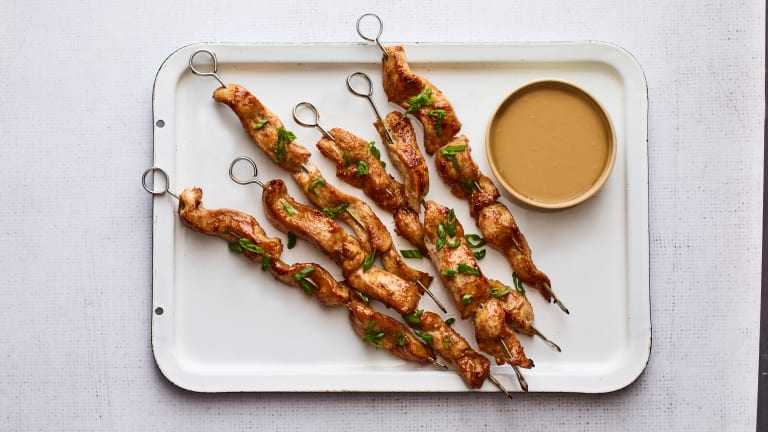 6 Summer Party Appetizers
I love a good party.  But easy laid back open house-style entertaining.  Which I find perfect for summer.
When I host a Sunday summer soiree I serve some of my favorite party finger foods.  Things you can eat standing up while mingling and holding a baby.
BEEF SATAY WITH HORSERADISH MUSTARD
I really skewer lots of things.  Yes, it's a partial patchke which is only really against my religion if it's super hard or super-duper time-consuming.  But to skewer sliced beef is really not so bad.  The horseradish mustard though is a real favorite and a great burger condiment.  You can also try Chicken Satay like the main pic above. 
FRIED RISOTTO BALLS WITH MARINARA DIPPING SAUCE
There are a few steps to this recipe but if you make the risotto beforehand it will seriously cut down your prep time.  Cut it down even more by using whatever rice you'd like - even instant.  This is a cool way to use up leftover chicken.  It's shredded and added to the rice mixture.  Make it pareve by omitting the chicken and using vegetable broth.
TUNA TARTAR WITH HONEY SESAME WONTON CRISPS
This presentation is fancy for when you are pre-plating and hosting a holiday or Shabbos meal.  At a party place a spoonful of the tartar on each crisp so people can just grab a wonton and pop it into their mouth.
Going Dairy?
I love phyllo it's so flaky and light it almost doesn't feel like a carb.  People get confused with how to "roll" this.  Do it just like you would a flag.  Any flag rollers in the house?
Well now this is completely carb free and a HUGE crowd favorite.  Make it Pareve by using tofutti cream cheese.
POTATO AND GOAT CHEESE TRIANGLES
Hubby says put anything in a puff pastry and he will eat it.  So I do.  potato and cheese in puff pastry probably should be illegal.  But it isn't yet so let's enjoy.
What's your favorite party food?