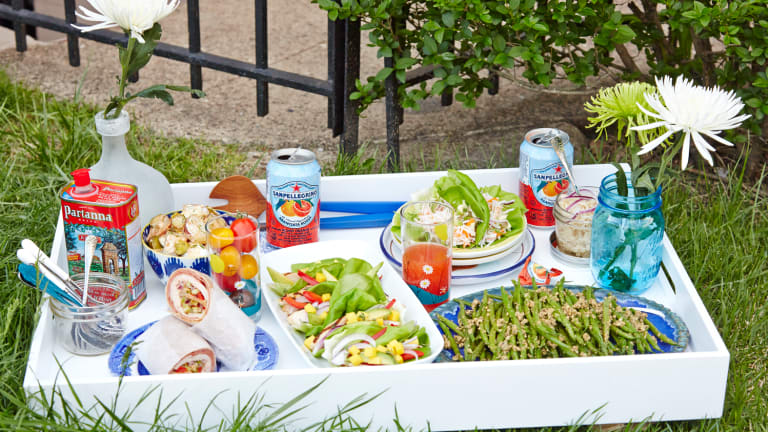 Fast, Fresh, Flexible Picnic Recipes For The Whole Family
It was my daughter's birthday and after much deliberation, it was decided that we would go to the Biblical Zoo in Jerusalem. "The zoo," I wined, "we go there all the time. It doesn't feel special enough."But we have never picnicked there," he said. "Let's bring a blanket, good food, and just relax."
Like most good ideas in our house, this one originated with Hubby. And I have to say we set up our blanket and stared at the sky as the kids rolled down the hill and jumped on the gorgeous mosaic animal sculpture playground and we all agreed it was a slice of heaven. I'm telling you this now with my heart and soul — every family should make a go at a picnic. It's low key, low-pressure family fun.
Here are 7 perfect picnic recipe that we brought for our slice of heaven picnic.  Pack your picnic easily with this picnic basket. 
Unwrap It: Serve as a gorgeous salad with dressing on the side. This way everyone can dress the salad to their liking and it won't get soggy in transport. Travel with dressing in a mason jar so it's easy to re-shake before pouring.
Imitation crabmeat, also called Kani, is what kosher sushi chefs use for California rolls and other traditional Japanese rolls and recipes that call for crab. It can be found in the freezer section of your kosher supermarket.
Muffuletta is a sandwich that originated in New Orleans. Legend has it that Salvatore Lupo of Central Grocery had olives left over from the bottom of the barrel and invented this famous sandwich to use them up. Here is a kosher, wrapped-up take. I suggest sliced smoked turkey and salami but feel free to swap and wrap your favorite deli meat.
It's not a picnic without...the potato salad. This one here combines the tangy flavor of deviled eggs with this outdoor meal must.
BLUEBERRY, PEACH AND GOAT CHEESE WRAP OR SALAD 
I adore sweet summer fruits - a blend of mild, bold, and peppery greens topped with my tangy Mustard-Thyme Vinaigrette. In the winter I make this same salad featuring walnuts and dried cranberries in place of the peaches and blueberries. Wrapped or unwrapped it screams "Take me outside and eat me now!"
GREEN BEANS WITH WALNUT AND GREEN OLIVE TAPENADE
You can buy store-bought tapenade to make this dish in even less time. 
Classic comfort in a hand sandwich, I love how well this travels and how perfect it is enjoyed at room temp.