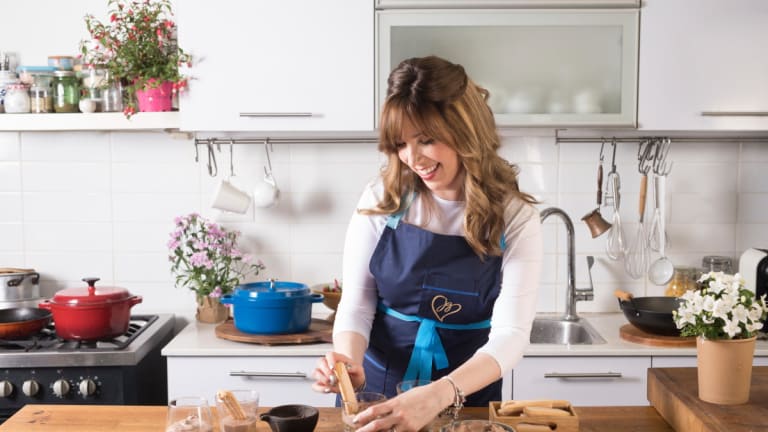 This One's For The Vegetarians: The Ultimate Quick & Easy, Last-Minute, Shavuot Menu
Yes, you still have time to run to your local store and grab the ingredients for this fabulous Shavuot or Vegetarian party menu. Still looking for Shabbat inspiration? Try our Make Ahead, No Reheating Required Shabbat Menu.
I never celebrated Shavuot growing up. We did the biggies in our house—what I like to call the "holy trinity" (is that scandalous?) of Jewish holidays—Rosh Hashanah, Chanukah, Passover. And while I have memories from birth of those major holiday moments, recipes to pull from, customs to continue with my kids, stories to pass down, Shavuot was one of those holidays I had to start from scratch when I got married 14 years ago.
And unlucky me, Hubby doesn't like cheesecake. I then proceeded to have a carload of kiddies that caught his allergy to what may very well be the best dessert on the face of the earth (it's all protein, right?!?!). So how am I to cook, create, and celebrate Shavuot when I can't combine it with my love for the iconic holiday dish? 
But I am consoled by the fact that Shavuot is not just for cheesecake lovers, it's a vegetarian's dream. A holiday when you can serve Breakfast All Day along with Savory Yogurt Bowls that are a cinch to make. 
BEETS, CARROTS AND TOASTED HAZELNUT YOGURT BOWL
Make this recipe even easier by setting up your toppings in various bowls and have your guests customize their own versions.   
Considering main dishes, it is always wonderful to throw in a dish that you know everyone of all ages will love. This baked ziti classic is fairly quick and reheats well.   
Easy and indulgent - just how I like my holiday fare - my famous Quick & Kosher Cheese Quiche can be easily riffed on and customized.
Israeli Salad is a classic and it's a classic because it's always a winner. This version adds a bit of Greek inspiration with some feta and olives. Buying a few good quality ingredients and serving them simply is a great strategy for last minute menus. 
Another fabulous quick bowl of deliciousness is my easiest every tiramisu. All you need is ten minutes and guess what?! You can prep this recipe ON Yom Tov. It's the no bake dessert dreams are made of.   
We can keep talking food all day but we have to remember that holidays are not just about the menu, they're an opportunity to create MEMORIES to last a lifetime. And those memories start with the holiday prep. 
Involving your kids in the days leading up to Shavuot extends the JOY of the holiday beyond the confines of the actual day or two of meals and special family time. Make Edible Floral Centerpieces if you have the extra time. 
Each activity presents an opportunity to discuss the meaning of the holiday or just bond with your kids over casual conversation while cooking and crafting. I am always amazed by how much my kids tell me while we are in the midst of doing 101 things. Don't miss these precious moments with them—a very smart person just told me "the days are long but the years are short." Let's not let this Shavuot pass by without creating that special family custom, craft, or cake with our kids.
Wishing you a Chag Sameach. 
Love and Hugs,
Jamie