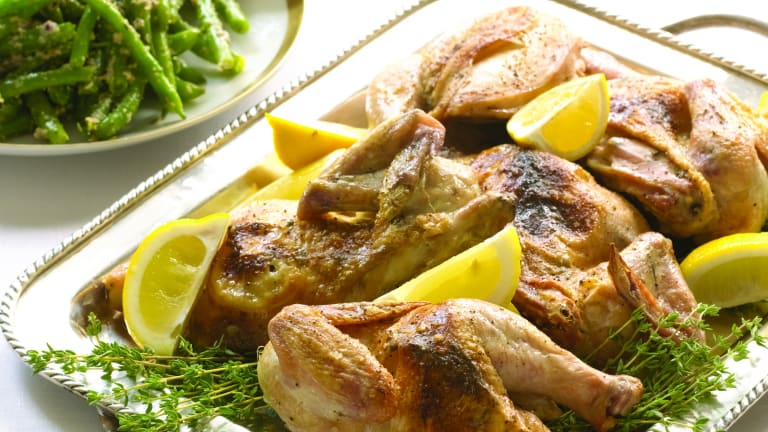 My Most Popular Shabbat Sides
Chicken and rice, chicken and potatoes, chicken and kugel…
And so the list of "chicken plus [insert side dish here]" goes the planning of my Shabbos menu every week. Roasted Lemon Cornish Game Hens are a personal Shabbos poultry favorite. (I love, love, like totally LOVE lemon on my chicken and turkey.) But remember a winner winner chicken dinner is only made better by a superb side.
Here is a roundup of our most popular, most beloved, most visited, most shared, most commented, and most bookmarked sides.
Perfect potato kugel never gets old. Potato Kugel Cups turn this expected side into an event worthy dish.
My 5-year-old Noeeee's mashed potatoes are famous around these parts. We get calls for her 3-ingredient (potatoes + evoo + salt) recipe all the time. When I get the rare opportunity to make mash on my own I kick it up a few notches with a few more ingredients.
Few things are finer than biting into an oven-roasted fingerling. The salt, the skin, the fleshy inside...
Pretty as a rainbow and bursting with juicy grapes, I love this dish for Shabbos and for a picnic just the same.
GREEN BEANS WITH WALNUT AND OLIVE TAPENADE
I have done green beans every which way from Sunday but when I combined my sister-in-law's olive dip with my Hubby's 2nd favorite veg (broccoli is his #1) I kind felt like I had a moment of genius.
Because broccoli is his #1 (see above), I can thank my mother-in-law for walking me through my first ever broccoli kugel. And now 12 ½ years later we are still making this super low carb, super easy side.
Hubby doesn't believe in dessert for dinner. So I have to forgo all those fruit crisps we Jews like to rename as kugels. This sweet potato and carrot bake is the closest I can come to a sweet side without a small revolution on my hands.
Want stories like this delivered right to your inbox? Sign up now for our *free* JOY of KOSHER Newsletter.