The Momentousness of My Eldest Daughter's Bat Mitzvah
I struggle to put into words the most awesome moments of my life.
Our eldest daughter, Bracha Miriam's Bas Mitzvah, is one of those moments.
I grew up with one of those Jewish mothers who insisted I was the BEST (at everything!). I was G-d's gift to this world and absolutely no one could tell her otherwise (they should fear for their life if they tried). My mother was my biggest fan, supporter, cheerleader and rock for every moment (big and small) in my life (until Hubby came along).
When I was pregnant with our first, oh how she doted on me, as always, a hundred calls a day, as always. But Hubby warned me soon things would change. You see I was the oldest and was about to give my parents the gift of their first grandchild. Hubby had a bunch of older siblings and a busload of nieces and nephews, so he had been through this before. He warned me, once that first grandchild arrived, everything would change.
I didn't believe it, "not with my mom" I emphatically told him, but his prophecy came true and once Bracha Miriam arrived - my whole world changed. When she was born, a mother was born and I finally understood what it meant to love so fiercely, so entirely, and so perfectly. And even though I now became a 2nd thought to my own mother I adored her for it, because, when you are a mother you can't help but love anyone that loves your child so intensely.
And so Bracha Miriam grew up with 2 generations of women who insisted she was the BEST (at everything!).
At 8-weeks postpartum, my mother-in-law babysat as we attended our first wedding. Our cousin Tamar was getting married and I was ecstatic to fit back into one of my old pre-pregnancy wedding outfits. We posed for picts with our bundle of utter joy, handed here to my mom-in-law and headed out as a couple for a night on the town, our first, since the baby. I was not at all prepared for what an absolute mess I would be at the chuppah. I simply couldn't stop crying as I thought about Bracha Miriam's wedding and what it would mean to G-d willing, one-day, marry off a child. To be sure, it wasn't just the hormones, as I continued to cry for the next 12 years at every wedding imaging Bracha Miriam and all of my children as brides and grooms.
I had severely underestimated the power of a Bat/Bar Mitzvah - the momentousness (I actually looked it up, it is a word!) of the occasion, of becoming an official (man or) woman and accepting the Torah and Mitzvos. I had been to Bat Mitzvahs before, they never made me cry. I simply wasn't prepared for what it would be like to be a mother in this moment.
We had posed 3 celebratory options to Bracha Miriam for her to choose from. Option 1, a party with her friends. Option 2, a party with her friends and the female members of our family. Option 3, a shabbos with our closest family (our siblings living in Israel) and our mothers, in our home. Bracha Miriam's cousins are her best friends, as my sisters- and brothers-in-law are our best friends and she quickly settled on option 3 not wanting to celebrate her Bat Mitzvah without all her family present.
One day, shortly after we had decided on Option 3 we were skimming through one of the local magazines that had landed on our doorstep and we saw a beautiful advertisement for the Palace in Tzfat and immediately thought that would be a super special way to spend Bracha Miriam's Bat Mitzvah Family weekend.
You can see a tour of the Palace, breathtaking views and all, here.
And the moments before the Bat Mitzvah here.
The weekend was magical. We were 38, grandparents, children and grandchildren in a mansion in the holy city of Tzfat. We lived in the villa like it was ours and even had our own family minyan in the Palace shul. There were intense prayers, tear jerking speeches, a fun grammen (rhyming poem) performed by the cousins, and beautiful joyous singing reverberating through the Palace and spilling out onto the terraces and into the streets of Tzfat, all shabbos long.
It was one of the most incredible shabbosim of our collective family lives. The richness of sharing this JOY with the closest of our family (we dearly missed my father and a few of our siblings abroad who sadly weren't able to travel for the occasion) is a privilege we don't take lightly.
Here is a family photo album of the moments before candle lighting Friday night.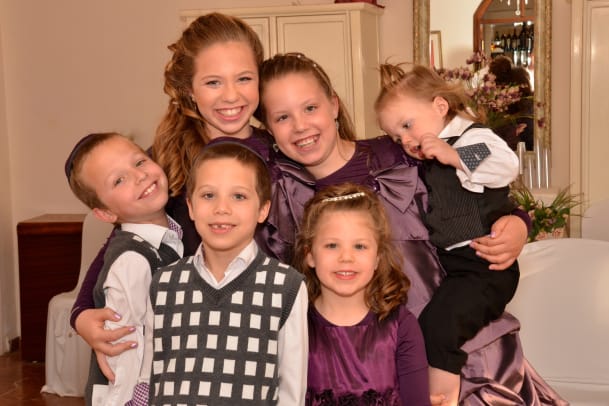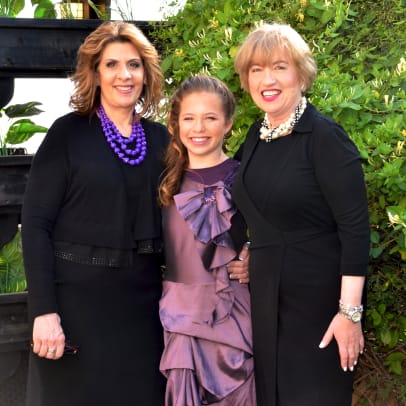 If you've had the blessing of making a Bar/Bat Mitzvah then you know exactly why my heart swells at the sheer memory of the moment and how I look at my baby and simply can't believe how big she is.

If you haven't yet had the privilege of this momentous occasion, don't underestimate it's power and the JOY felt by ushering your child into adulthood. Next we usher down the aisle, G-d willing!