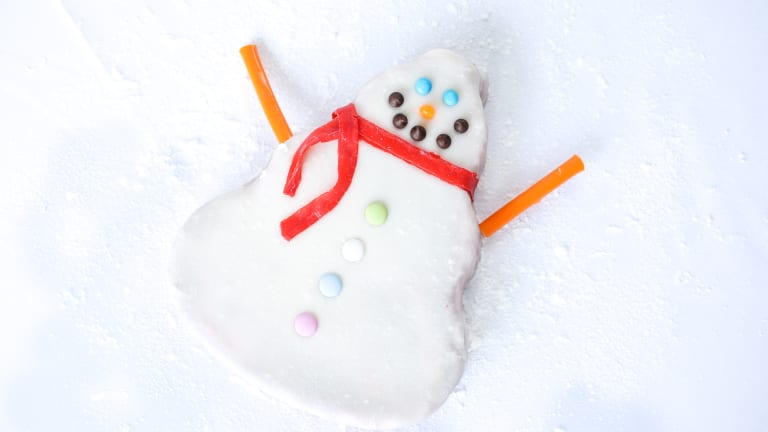 My Snowman Cake Disaster Has A Happy Ending
THAT TIME I MADE HUBBY A BIRTHDAY CAKE
I don't hide the fact that baking is not my thing. 
I'll confess, I'm not a real "chef," I just play one on TV. Moreover, I still make mistakes in my own kitchen and everywhere else. Listen, the fact that I've written cookbooks doesn't make me immune to fiascos. Take a little episode in my life I'll call Hubby's Birthday Surprise.
>>I'VE COME A LONG WAY FROM TEHRE - NO MISTAKING BAKING MY NEWEST AMAZON BESTSELLER IS AVAILABLE NOW.
As a loving and thoughtful wife, I decided to make my husband a birthday cake. The trouble was the thought didn't occur to me until after he left for minyan (daily prayers) the morning of his birthday. But I tried to think it through. It would take about 50 minutes for him to pray. Add a half-hour for him to do his Sunday errands and yes! I can do it!
Just a few days before, he had been reminiscing about the "snowman cake" his grandmother always baked for his birthday. Just talking about it put such a happy, boyish, and somewhat wistful grin on his face so I resolved to recreate that cake. How hard could it be? Chalk up my zeal to hormones: I was just a few weeks from my son's due date and I was feeling super-motherly.
It is a rainy morning, too close to 7 o'clock. I load my sleepy toddlers into the minivan and we tootle over to the supermarket. We race through the aisles looking for the essential ingredients, at least the ones I can remember. After three clerks and a manager tell me they don't stock specialty items like snowman cake molds, I strap the kids back into the car and dash home.
Back in the house, I decide to improvise the snowman using circular challah pans. I whip up the batter, pour it into the pans, and throw them in the oven. I change the kids out of their pajamas, feed them breakfast, and smell the cakes burning. I call that done. The canned white icing I bought covers only half of this singed, drooping, twenty-pound monster, so I make some chocolate ganache and slap it all over the rest. It already looks terrible—what can I lose? So I give the girls sprinkles, chocolate chips, Twizzlers, and potato chips; and they throw the stuff all over the cake with wild abandon.
I manage to lug the Snowthing to the table just as hubby walks in the door. The kids are giggling and jumping up and down. I'm covered with sweat and flour, but I try to smile as we lead him to our masterpiece. Singing "Happy Birthday" in our party hats, we watch Hubby try to figure out what the monstrosity on the table is supposed to be. "It's a snowman cake, Abba, just like Great-Grandma used to make!" they shout. Birthday Boy gives me a quizzical look then manfully takes a cake server in hand. Next, he tries an 8-inch chef's knife (another option would be a chainsaw) to hack through the hard, crusty shell of the cake. The batter inside oozes out, totally raw, onto the table! He doesn't even take a lick of the icing. Instead, he runs for his camera. Staring after him, my eyes are a bit teary. And that's when my daughter climbs on my lap and whispers, "I told you, Mommy, we should have bought a bakery cake."
To understand the severity of the letdown (not sure whose was bigger—mine or his) we have to travel back further in time to the week before his Birthday when Hubby is hopelessly nostalgic for a snowman-shaped birthday cake that his Grandma used to bake for him. He recalled every detail and subtly hinted that he would love to relive the experience. But my last-minute antics and inexperience forced me to serve him that monstrous, ill-shaped, under-baked Snowthing, clumsily decorated by toddlers. It was my worst nightmare, and his best laugh, in years. And for those of you, who wonder whether I make up these adventures, take a gander at this photo. Hubby captured it all in living color, and he never even tasted a bite of the mess. Not that I blame him. It was inedible.
>>I'VE SINCE LEARNED HOW TO BAKE A BIT AND MY NEW BOOK NO MISTAKING BAKING IS AVAILABLE NOW.
While Hubby refused even a nibble I must come to his defense and tell you that he almost never passes up something I've prepared. He bravely digs in, pronounces it terrific, or nobly reassures me that "somebody somewhere will just love this." But the fact that he didn't even want to try the cake gives you a sense of how unappetizing the whole thing looked. I guess it was so far from his grandmother's light, fluffy, perfectly round and cutely decorated snowman cake, that even to acknowledge my shameful thug as the same species would have been a disgrace. There was nothing about my renegade to suggest the soft grandmotherly hands icing her masterpiece, lovingly bestowing upon it a nose and mouth made of raisins, not to mention a scarf, belt and little buttons.
Now over the years, his Grandma acquired the name GG (for Great-Grandma) and GG was a kind soul (she should rest in peace). She finally took pity on me and gave me her Snowman Cake Pan! It was about 50 years old, and she handed it to me as though it was the passing of the torch, bestowing blessing and heartfelt prayers that it would bring me mazel and help me get this birthday cake right. She even threw in her hallowed decorative icing tubes.
And then she whispered something else. She used Duncan Hines cake mix, and Duncan Hines icing.
Yes. It's true!
And my mind began to reconfigure the challenge: If GG, the matriarchal gourmet genius of the Geller family could use DH, so could I! So could I!
I cleared my mind, straightened my shoulders, set my jaw, and kicked the kids out of the kitchen. They were allowed to watch from the doorway, but Ima was very busy fixing Abba's birthday surprise. So they watched me from afar, eyes wide, mouths drooling, as I gently placed the cake into the oven.
>> WITH MY NEW BOOK NO MISTAKING BAKING LEARN SEEMINGLY SIMPLE AND INCONSEQUENTIAL TIPS AND TRICKS THAT WILL FORVER CHANGE THE WAY YOU BAKE.
I set the timer, yet found myself running back and forth to peek every so often. The snowman swelled with precision in his antique pan. He was calm, unflustered, reliable. I checked and rechecked. And finally, the wooden skewer came out clean. Dutifully, I followed GG's instructions and waited for it to cool completely. That's something I almost never do: Who has the patience to let dessert cool completely? But I went against my nature, restrained myself, and waited and waited. The moment to ice finally arrived—and in walked Hubby. He caught a whiff of the whole affair and this time wanted to supervise. Okay, so it wouldn't be a surprise. We were in this together. I proceeded to ice, with Hubby hanging right over me, coaching me about theory and techniques, and giving me a Mr. Miyagi style "wax-on wax-off" kinda shpiel. After he pointed out yet another uneven area, and reminded me once more that the sides should be done with one fluid smoothing motion, I am about to bring Mr. Snowman down on his head!
>>DON'T LET YOUR CAKES FALL FLAT MY NEW BOOK NO MISTAKING BAKING IS A FRESH, SIMPLE, EASY AND COMPLETE GUIDE TO CAKES, COOKIES, BABKAS, BUNS, BUNDTS, LOAVES, lAYERED DESSERTS AND MORE. 
But I don't. We've come this far, and it's looking like a winner. I gave the snowman two eyes, a nose, and a mouth. I didn't use raisins, like GG did. This was my cake, for goodness' sake, and I'll use whatever I want. It just seemed like the right time to put my foot down. Hubby accepted the revision. But then, with his insistence, I gave the snowman a scarf just like GG did. And then something came over me. Call it a spurt of creativity. Without warning, I began to give the snowman buttons and hubby almost faints. As I am decorating, Hubby sees his dreams of the perfect cake come crashing down, but I've hit my stride. The buttons came out perfect. As I finished, he smiled and said," Oh buttons! Kids, Ima made buttons!" He was so proud, he almost called GG. Thank G-d for Duncan Hines.  You won't hear many cookbook authors say that, but I'm happy to share the accolades. So, following a few tries and six days after his birthday, Hubby not only tried the cake, he ate it! Ate it all! Now he expects one every year.
What's your biggest #bakingdisaster - comment below.
>> AS AN ESTEEMED GRADUATE OF THE 'FAKE IT TILL YOU BAKE IT' SCHOOL, IT'S MY MISSION - WITH MY NEW BOOK NO MISTAKING BAKING - TO ENSURE YOU BECOME THE MOST CONFIDENT HOME BAKER TO HAVE EVER WALKED THE PLANET EARTH.