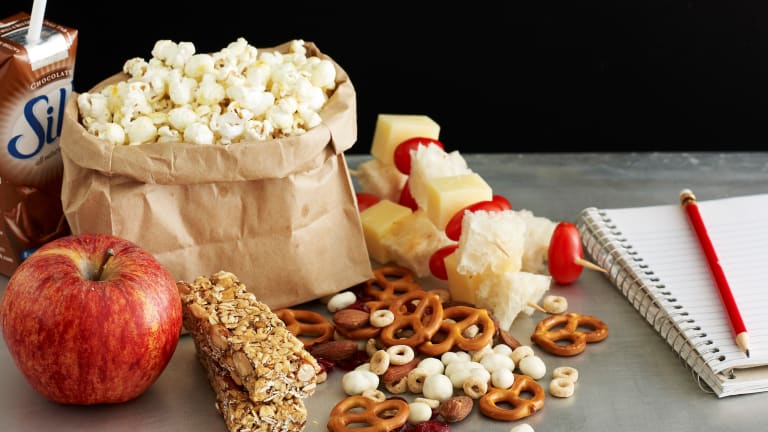 5 Back to School Lunch Tips
These tried-and-true tips put the fun back into preparing simple and healthy, school lunches. Your kids will thank you!
1. Mix-It Up
Enlist your kids on a Sunday to make a batch of trail or party mix for the week. The possibilities are endless! Most will keep for over a week in an airtight container. When kids need snacks-on-the-go, scoop a handful into a Ziploc bag.
No-Bake Trail Mix
For No-Bake Trail Mix: in a large bowl, combine 3 cups whole grain cereal, such as Cheerios, ½ cup plain or yogurt-covered raisins or dried cranberries, ¼ cup mixed dried fruit such as apricots, plums, or apples, ½ cup peanuts, almonds, pecans or walnuts, ¼ cup mini pretzels.
Sweet and Spicy Popcorn Mix
For Sweet and Spicy Popcorn Mix: heat 2 tablespoons vegetable oil in a large pot, until hot but not smoking. Add ½ cup popcorn kernels, cover. Once the kernels have finished popping, transfer to a large bowl, and add 2 teaspoons brown sugar, ½ teaspoon kosher salt, 1 teaspoon garam masala or sweet curry powder.
2. Make It Mini
Kids love finger-size foods. Spend an afternoon baking bite-size, kid-friendly treats. Store the baked goods in the freezer. Pack them in the lunchbox frozen; they will defrost by lunchtime. Use mini muffin tins to make tiny cupcakes and a melon baller to scoop cookie dough into "cookie bites."
Mini Cheese Crisps
To make Mini Cheese Crisps: combine 1 cup grated cheddar cheese, ½ cup of softened butter, 1 cup of flour and 1 cup crispy rice cereal. Using your hands, shape mini-size balls and place on a cookie sheet. Bake at 350 for 10-12 minutes, or until golden brown.
3. Kool Kabobs
What child won't love eating lunch off a stick?
Perfect for kids with serious aversions to healthy snacks, skewers of melon balls, grapes, blueberries, and orange slices look as gorgeous as they taste. For a new spin, make a sandwich kabob by skewering cheese cubes, grape tomatoes, pickles, and cubes of bread on a stick or try Fruit Kabobs with Yogurt Dip. 
4. Delightful Dips
Stock up on the smallest containers you can find and fill them with dips to accompany bread sticks, fish sticks, cut fruit, and of course, sliced veggies.
For Honey Mustard Dipping Sauce, blend 3 tablespoons mayo, 2 tablespoons Dijon or whole grain mustard, 2 tablespoons honey, and 1 teaspoon fresh lemon juice.
For Tartar Dipping Sauce, in a food processor, pulse to combine ¼ cup light mayo, 5 baby gherkin pickles, 1 teaspoon minced red onion, ½ teaspoon fresh lemon juice, 1 teaspoon sugar.
For Yogurt Dip, in a blender or fruit processor, combine 1 cup vanilla yogurt, 1/3 cup cream cheese, 1 tablespoon honey, 1 teaspoon cinnamon, 2 tablespoons fresh lemon juice.
5. Sandwich Cut-Outs
Instead of slicing bread in half to make a traditional sandwich, use cookie cutters to make sandwiches in all sorts of shapes.  Spread peanut butter or cream cheese and jelly on bread. Press a cookie cutter through the sandwich.