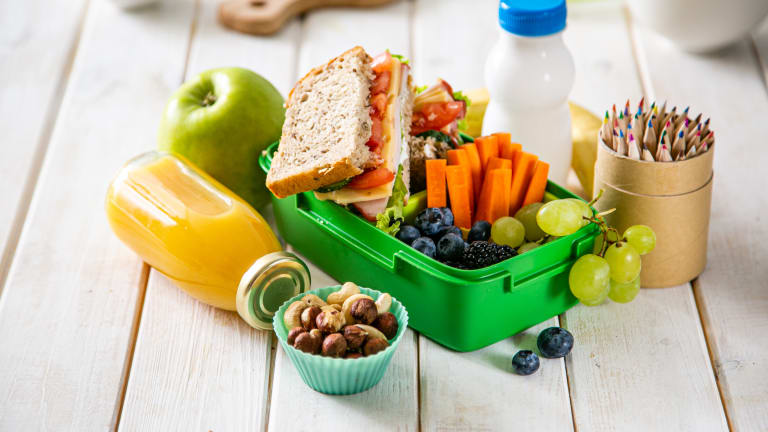 Top Ten Tips for School Lunches Your Kids Will Love
Whether your kids are going back to school in person or virtually, making sure they have a high quality, nutritious lunch doesn't change. In fact, some who may have been getting lunch in schools might not this year. And while being at home seems like it will be easier, we are all busy and planning a huge meal for everyone is not the cards for most of us.  But most of the foods manufactured especially for children's lunchboxes are really unhealthy.
Children are all different but by and large what they want is a quick fix—a bag of chips and a chocolate cookie that can be wolfed down in minutes saving maximum time for the playground or a quick video game. It's never going to be what parents want, good food that will sustain them until dinnertime.
A Good Lunchbox Should:
Help to improve your child's attention, behavior and learning in the afternoon.
Provide one-third of your child's daily requirements of nutrients.
Contain a source of protein to keep children alert, complex carbohydrates for slow release energy, calcium for growth, a little fat for staying power and fruits and vegetables for minerals and vitamins.
Keeping kids on a schedule and in a routine is good for them, so even if they will eat at home you might want to pack up their lunch and you will love our Bento Box Lunch Ideas. 
Make sure the lunches include the following:
PROTEIN: 
Good sources of protein are chicken, tuna, egg, cheese and peanut butter and you can use these to make delicious sandwiches, pita pockets or tortilla wraps. You can also make delicious pasta, rice or couscous salads with some chicken, tuna or salmon.
CARBOHYDRATES: 
Choose carbohydrates like wholegrain bread, pasta, potatoes or rice. Pasta or rice salads make a nice change from sandwiches. Complex carbohydrates release calories slowly and help to keep up energy levels and concentration whereas refined carbohydrates like white bread, cookies or cakes only provide short-lived energy. They have also been stripped of their natural fiber during processing and have lost some of their valuable nutrients.
CALCIUM: 
Children under the age of 5 shouldn't have a low fat diet, so choose whole milk products like Greek-style yogurt rather than low-fat yogurt. Cheese, yogurt and mini yogurt drinks are all excellent sources of calcium that will help build strong bones.
FRUITS AND VEGGIES: 
Different fruits and vegetables provide different vitamins and minerals so try to include a wide variety. It's a good idea to include a vitamin C rich drink like orange juice or cranberry juice to help boost iron absorption. Always choose 100% juice as juice drinks can have less than 10% juice.
Health experts recommend that we should try to include 5 portions of fruits and vegetables in our diet every day; a portion is roughly what you can hold in your hand.
FATS: 
While it's true that young children need proportionately more fat in their diet than adults, this should come mainly from nutritious foods like cheese. However, there's nothing wrong with including a treat like a muffin, cookie or granola bar in your child's lunchbox. It's a nice idea to bake with your child over the weekend and include what they have made in their lunchbox. You can make healthy treats like oatmeal cookies or mini carrot and apple muffins.
Top 10 Tips for School Lunches Your Kids Will Love
1. KEEP IT FRESH AND EASY: It's important to include fresh fruit and vegetables in your child's lunchbox. Children like to hold wedges of fruit and raw vegetable sticks. Cut up mango, melon, papaya and pineapple and pack the wedges in a plastic container. Carrot, sweet pepper and cucumber sticks are best wrapped in dampened paper towels to prevent them from drying out and maybe include a tasty dip like cream cheese and chives or hummus. Children tend not to eat foods that require a lot of effort so when giving something like clementines, peel them first and then wrap them in saran wrap.
2. AVOID THE MORNING RUSH: Getting the children up and dressed for school is not always easy so if you are usually in a rush in the morning lunches can be prepared the night before to save time. You can prepare pasta salads, sandwich fillings, fruit compotes or include something from last night's dinner like soup in a thermos (this is where virtual learning can be helpful, you can heat the soup for them).
3. SELECTION: There are so many different types of breads available now in supermarkets so sandwiches don't need to be boring. Try pita pockets, ciabatta, tortillas and mini baguettes. Keep a supply of frozen breads, bagels and rolls in the freezer for emergencies.
4. KEEP IT INTERESTING: Try giving pita pockets with tuna, sweet corn and mayonnaise, tortilla wraps with cooked chicken, salad dressing, shredded lettuce and tomato or mini baguettes with cheese and salad. To prevent sandwiches from getting squashed cover them in plastic wrap or foil and store them in a small plastic container in your child's lunchbox.
5. MAKE IT SPECIAL: Add a personal touch to your child's lunch, tuck in a note, stickers or joke or send a special treat labeled 'share with a friend.' Pack fun napkins, decorate lunch bags with stickers, draw a face on a banana with a marker pen.
6. NIX THE CHIPS (or at least cut them in half): According to a recent survey 9 out of 10 lunchboxes contain double the recommended daily intake of sugar and nearly half the daily allowance of salt and saturated fats. Try to avoid too many processed foods as these are the ones that tend to contain few nutrients and too much salt, sugar and fat. If your child likes chips but you don't want him to fill himself up by eating a whole bag, put some in a small bag and tie the top or wrap some chips in foil. Instead of chips try offering foods like, lightly salted popcorn, rice cakes, wholegrain crackers with cheese and grapes.
7. EYE APPEAL: However healthy the food is, it won't get eaten unless it's tasty and appealing to your child. Simple touches can make all the difference like cutting sandwiches into shapes using cookie cutters or threading fruit onto a straw to make a fresh fruit skewer.
8. CREATIVE SALADS: Salads make a nice change from sandwiches, try making a potato salad using a bought potato salad and mixing in some cherry tomatoes and spring onions.
9. WARM SOUPS: As the colder weather sets in it's a good idea to include something hot in a lunchbox. A wide-mouthed mini thermos is ideal for serving up a delicious cup of home-made or good quality store-bought soup like tomato soup which is both warming and nutritious. You can also put foods like baked beans or pasta shapes with tomato sauce in a thermos.  
10. REAL JUICE: Give pure fruit juice or water—some juice drinks contain very little juice but a lot of sugar so look at the label before buying. Pure fruit juices contain 100% juice but a fruit juice drink can contain as little as 5% juice and as much as 5 teaspoons of sugar in one individual carton—check the ingredients before buying. Fresh fruit smoothies, fruity milkshakes and probiotic mini yogurt drinks are good too.  Smoothies are another great idea that even young kids can make themselves if at home.