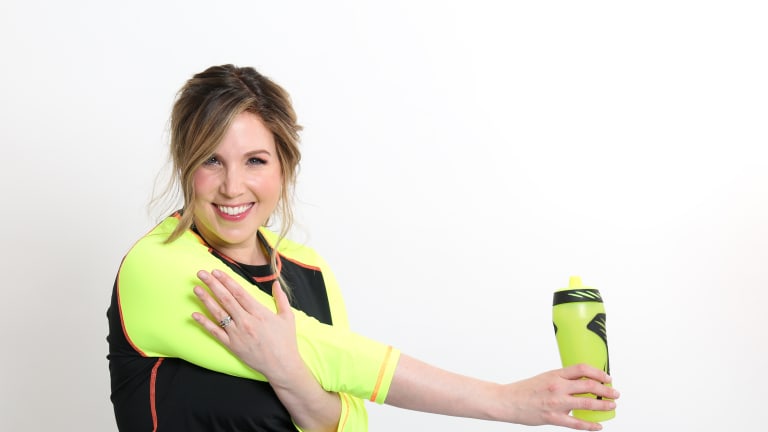 Get Healthy in 5 Easy Steps
The Jewish holidays are over.  How did you do?  Even the best of us have trouble staying healthy during a month long of extra large meals, little time for exercise and lots of sweets.  It's okay, don't beat yourself up too much, get ready to charge ahead to a healthy new year.
A new year brings opportunity to start fresh! What better way to get started than with a focus on healthy meals and habits for the entire family to try. We here at JamieGeller.com got you covered. 
Here are five tips to help make this year your healthiest year ever.
Step 1 –Exercise
If you weren't exercising before, start now!  No matter what your weight, exercise is great for your heart and you want to keep your heart healthy for many holidays to come.  Get up and get moving.   Find the exercise that is right for you, join a sports league, go swimming, climb stairs rather than taking the escalator or elevator, whatever it takes.
Step 2 – Get organized and take charge of dinner
There are lots of ways to get organized in your life and your kitchen. Knowing exactly where your tried and true recipes and your "want to try" recipes are makes the entire cooking process flow better.  
In order to make dinner happen as a family most nights you need to plan out your dinners.  Set a time everyone can make and choose your families favorites to fit your busy schedule. 
Take charge of dinner this year with my full access subscription to Fresh Families on Prepear and get all your dinners planned for you! 
Fresh Families is our meal planning program that gives you a lifelong plug-and-play solution to turning your family into a fresh and healthy family. Learn more and sign up here. 
Step 3 – Drink lots of water
Before you eat, drink! The water will help fill your empty belly and slow you down.  It is also important to stay properly hydrated.  Your body needs water. It is the gas that keeps your engine running. Not only does water keep you hydrated, but it also helps regulate body temperature -- it is essential to your body functioning properly.
Don't forget cold and hot tea count as water, as do naturally flavored waters and seltzer, just avoid sweeteners, many teas have natural sweetness from herbs. The exotic flavored teas and waters available today are enough to persuade even the most reluctant drinker to "bottoms up"!
Step 4 – Cut out one bad food habit
You know what it is, that late night dessert, the extra bowl of cereal, the sugary or even diet soda you are addicted to, that whole bag of potato chips you can't resist – whatever is, kick it.  Now is the time.  Take control!
Step 5 – Eat more fruits and veggies
Pretty much everyone agrees most of us don't get enough fruits and veggies in our diet.  Fresh, frozen and even canned fruits and veggies can help increase the vitamins and minerals in our diet which can help reduce the risk of heart disease, diabetes and some forms of cancer. 
I always prefer the dos of healthy eating rather than thinking about the don'ts and getting more colors in fruits and veggies into my diet is a challenge I love, but am still constantly working on.  
From salads, to soups to roasted veggies, to zucchini muffins, you can find lots of ways to increase your fruit and vegetable intake.