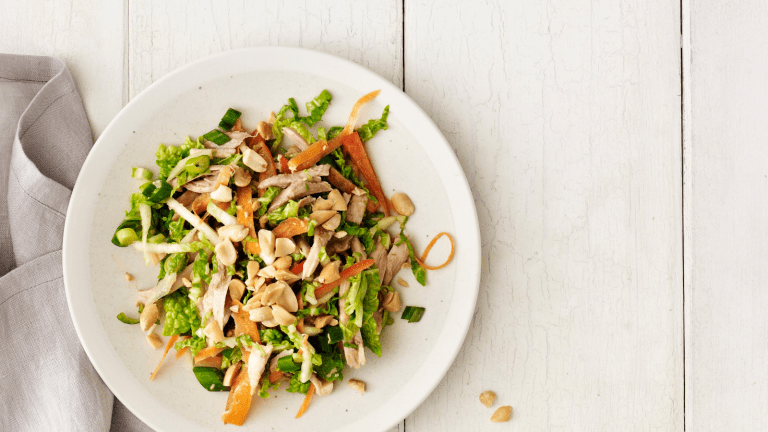 Turn Holiday Leftovers Into Fabulous New Meals
We've come to the end!  One full month of cooking, cleaning, hosting (maybe), cleaning, cooking, and cleaning and cooking some more – an experience so intense, it's amazing that we actually made it through.  But no sense dwelling in the past, we have to move on.
Like it or not, our lives soon will settle down into comfortable routines.  Meals will once again be just meals, not fully staged banquets.  But wait!  What's that left in the fridge? Do I detect leftovers?
And not just leftovers – bits and pieces of that other-worldly extravaganza you created just days ago.  If you're like me, you have that Jewish cook's syndrome -- making too much food, even when you know there's more than enough to feed an army plus a marching band and a gaggle of surprise guests.  So now you're stuck with too much chicken to throw out, and not enough for a family meal.  You can't just get rid of it, even if you can't bear to look at it another second: Hubby is always reminding me of the mitzvah of baal tashcit (a Torah injunction not to waste food), in addition to the common sense that tells you the same thing.  So that chickie is going to be served, but how?
You need to be inventive now, a master of disguise -- so they won't know they're eating the same stuff you just cleared off the table.  Have no fear. Jamie is here to provide you with culinary slight-of-hand.
Let's say you followed my Sukkot recipe guides (and if you didn't, I forgive you).  You probably have some delicious leftover beef from the Brisket in Wine Sauce, shredded cabbage from the Sweet Carrot Salad, dill from my Chilled Salmon, and soup chicken from my Classic Chicken Soup. And I'm also assuming that at least you have some other leftover chicken hiding somewhere in your fridge or freezer.
All of these ingredients can be used in the following recipes.  They look so appetizing and taste so great, your family will think that you're cooking everything from scratch!
Your leftover brisket shredded into this salad is the perfect dish to spruce up your leftovers.  You can still use other leftovers you may have to round out the meal.  Let the Thai beef salad be the star, and serve it with leftover Potato Kugel Cups and Carrot Muffins.  Your kids will love it!  
Orzo with Chicken, Dill & Chickpeas
Use your leftover soup chicken to make this orzo chicken salad and pair it with my Broccoli Mushroom Pie.  And don't forget to add a slice of Boston Cream Pie for dessert.  Just kidding.  Nobody ever has leftover Boston Cream Pie!
Salmon with Spinach in Puff Pastry
Instead of smoked salmon use your leftover salmon to make these salmon pastry pockets. Serve with leftover Potato Leek Soup. 
Chicken pot pie is always a smart way to use leftover chicken. In fact it saves you a step, it's also a great place to throw in any extra cooked veggies. 
Use your leftover mashed potatoes or mashed sweet potatoes to make a shepherd's pie. 
Another way to use your leftover soup chicken and turn it into a delicious hearty salad. 
Hash is also a great place to use leftovers.  It's so easy to adapt to whatever you have on hand. Throw cubes of meat, chicken or turkey, any roasted roots and add potatoes and greens to freshen it up. 
Make a fried rice with leftover rice, veggies and meat. 
The Great Leftover Challenge
What kinds of leftovers are in your fridge right now?  Let me know what you have and I'll help you figure out how to make delicious, new dishes out of them!