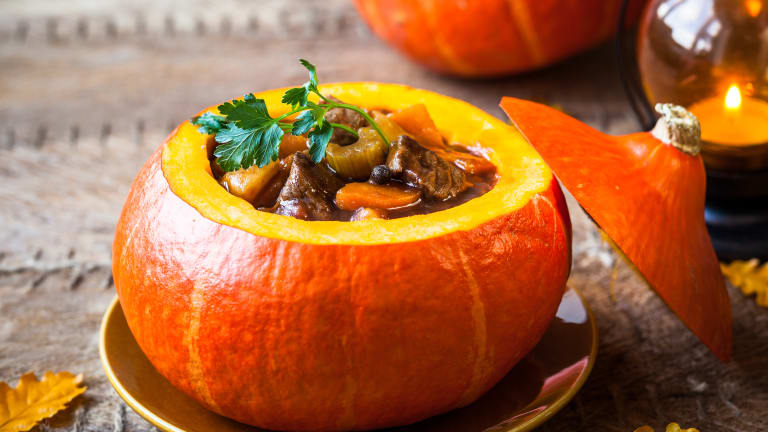 How Do I Reheat Stew in a Pumpkin Shell?
A few years ago, I was asked about reheating this Stew in a Pumpkin Shell recipe especially on a holiday, like Sukkos when most people are using hot plates to warm the food.  So, here is my advice, and it applies to all foods serve in pumpkin or squash shells, and we have many. 
MORE: 30 Stuffed Foods
This Stew in a Pumpkin Shell is the perfect pumpkin Sukkos dish to serve.
However, warming this up on Yuntif can be tricky... Here is my suggestion.
First, bring everything to room temperature before warming. It's the best way to keep from drying out and abusing your foods as you reheat and refrigerate them. That revolving door of reheating and refrigerating your food throughout Yuntif can be tough on your lovingly prepared recipes.
Remove the stew from the pumpkin and heat it separately as you would any other soup or stew-like dish.
Moroccan Beef Stew In a Pumpkin
Place the pumpkin shell in a tin large enough to hold it, add a small (very small) amount of boiling water to the bottom of the tin and cover it tightly with foil -- so that it steams as it warms. Place the pumpkin shell on your blech (hot plate) or in your warming drawer. The water is an extra step and is not absolutely necessary if you're not in a hurry. Given enough time, the shell should warm even without it.
Just before serving, remove the pumpkin shell to a serving bowl and fill it with the piping hot stew.
MORE: 3 Meals To Serve In Pumpkin Bowls
Enjoy