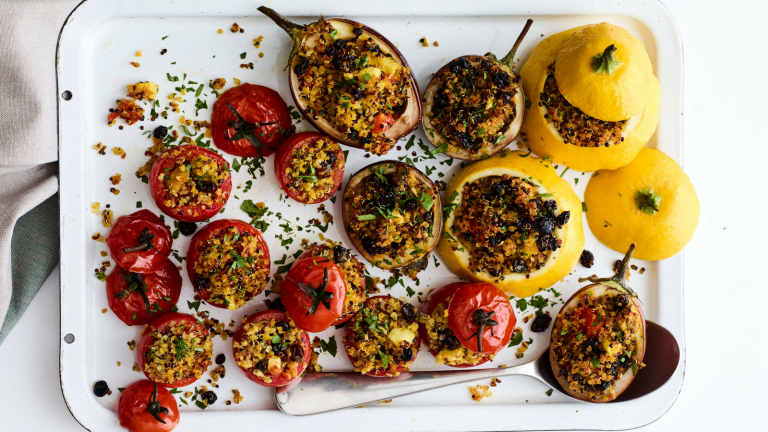 30 Stuffed Foods for Sukkot
In terms of the sheer number of holidays (not talking about the amount of work…nissan has that one covered!) Tishrei is simply stuffed!  
With one holiday coming on the heels of another, there is a lot of advanced cooking needed and with that comes a lot of eating.  While we all look forward to enjoying certain traditional foods at Rosh Hashanah and (pre/post) Yom Kippur, Sukkos leaves a lot of room for culinary creativity.  
A great way to exercise the foodie in all of us is by finding different ways to pack as many (read: pleasant) flavors into your dishes, the most literal manner of doing this is by cooking meats and vegetables that are literally, quite literally, stuffed with vegetables or dairy, respectively.  
"The most common Sukkot dishes are filled foods, particularly stuffed vegetables and pastries, symbolizing the bounty of the harvest," wrote chef Rabbi Gil Marks in his cookbook, The World of Jewish Entertaining (Simon & Schuster, 1998). Surely, anyone who has seen a large stuffed winter squash, its rice or grain stuffing generously overflowing, can appreciate the bounty G-d gives us at a time when we dwell in Sukkahs reflecting on our reliance upon Him. The stuffed vegetable has also been likened to the Torah scroll that we celebrate on Simchat Torah, whose real essence is wrapped inside.
Here are 30 stuffed foods to try this sukkos.
FISH
These two fish recipes are both delicious ways to prepare stuffed fish. I would serve the flounder during a meal which will have either red meat or chicken with a dark sauce, it's just a personal preference to keep either the color or flavor theme similar.  The Avocado Stuffed Salmon is great for a holiday lunch or when you are serving a lighter main course.
Asian Vegetable Stuffed Flounder
Avocado Stuffed Salmon with Wild Rice
DAIRY
Many people have different minhagim (customs) when it comes to serving meat versus dairy meals during the holidays, but no matter when you serve these dairy stuffed creations they are sure to be a big hit!
Stuffed Asiago-Basil Mushrooms
Sundried Tomato and Brie Stuffed Mushrooms
Gorgonzola and Walnut Stuffed Shells
Stuffed Fingerling Potatoes with Caviar and Creme Fresh
Salmon and Green Goddess Stuffed Latkes
Cranberry Quinoa Stuffed Zucchini
Greek Inspired Roasted Eggplant Salad
VEGETARIAN
Stuffed vegetables pack double the nutrition and double the flavor.  Also, there's a lot of versatility when it comes to serving them as appetizers or part of the main course, and generally they are easy to reheat to serve the next day.  They make amazing vegetarian and vegan main course recipes too. 
Salad Stuffed Grilled Portobellos
Curried Vegetable Stuffed Sweet Potatoes
Quinoa-Stuffed Roasted Tomatoes
MEAT
These meat recipes are really special to serve at the holidays.  The stuffing not only tastes great, but it also makes the holiday meal special because of the extra thought that goes into preparing and serving such an elegant dish, they also reheat well. 
Brisket and Veggies Stuffed Acorn Squash
Duck Breast Stuffed with Dried Fruits
Grape Leaves Stuffed with Herbed Lamb and Rice
Get more sukkos ideas here!