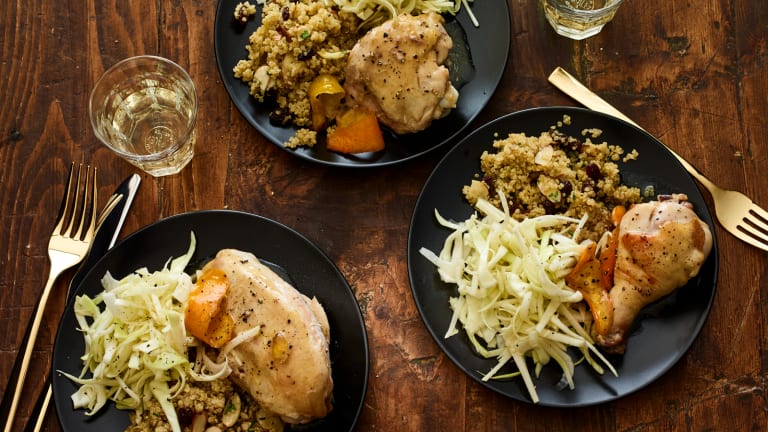 1 Hour Passover Shabbat Menu
This week you are doing a lot of cooking and we hope enjoying some time with the family. To take it easy for Shabbat we have prepared a menu that you can prep and cook in 1 hour.  
Here is the timeline to walk you through the best way to cook this meal:
Preheat oven 375°F. Prep chicken for oven and get chicken in oven. (5 minutes)
Prepare sauce for chicken.(5-7 minutes)
Melt chocolate in microwave. Prepare and arrange fruit in skillet. Dot with nut butter and drizzle chocolate over fruit and top with marshmallows and nuts. (10 minutes)
Prep quinoa and start cooking (3 minutes)
Turn chicken over and pour on sauce. (2 minutes)
Reduce oven to 350°F, put the fruit skillet in oven and bake for 10 to 15 minutes (1 minute)
Chop parsley for salmon and quinoa (1 minute)
Chop salmon and grate carrot and shallot (5 minutes)
Slice kohlrabi and fennel (5-7 minutes)
Turn off quinoa and allow to steam (1 minute)
Check on fruit skillet and remove from oven (1 minute)
Prepare dressing for kohlrabi and toss together (5 minutes)
Toss salmon starter together (3-5 minutes)
Check doneness on chicken, remove from oven (1 minute)
Toss quinoa with pilaf mix and put in serving bowl (1 minute)
Platter chicken
Put kohlrabi in bowl
CHILL OUT
You can actually make this recipe with any fish, raw or smoked, it is so quick and easy and tastes delicious.  It looks impressive, hard to believe you barely have to do anything. 
CHICKEN A L'ORANGE with QUINOA and KOHLRABI SLAW
Orange flavored chicken is a classic for a reason.  Mix up the sauce and bake up your chicken, keep it fresh with a slaw and simple quinoa on the side. 
Dress up your fruit salad with some nut butter, chocolate and marshmallows.  A quick and easy dessert you won't feel guilty about.