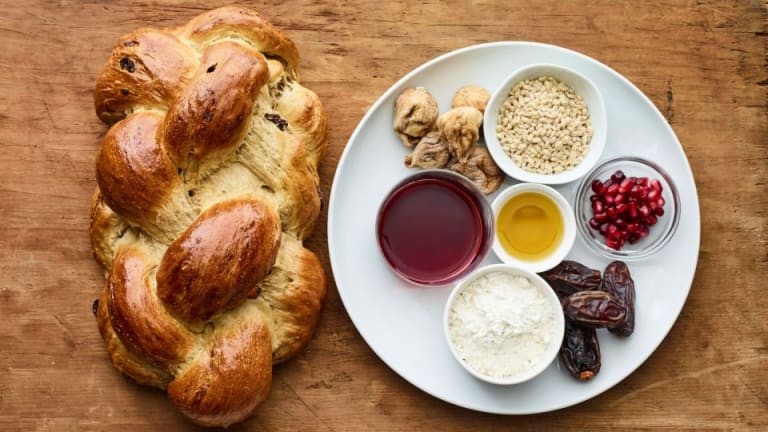 Shmitah Shabbat Menu

Who's excited for Shabbat this week?
You know that I'm always excited for Shabbat. But this Shabbat is going to be extra special, because it's a Shmitah Shabbat! (No, not Shmatta Shabbat. A shmatta is a rag. It comes in handy on Friday, for the cleaning.)
"So what is Shmitah Shabbat?"
So glad you asked! This year, Israeli farmers leave their fields to fulfill the biblical mitzvah of shmitah. And Shabbat and shmitah have a lot in common: Shabbat is the seventh day, and shmitah is the seventh year. On Shabbat, we rest from our work and reconnect with G-d, and during the shmitah year, Israel's farmers stop their work and remember Who their land really belongs to. In fact, the Torah even calls shmitah "Shabbat."
Shmitah teaches us a slew of life-changing lessons. Here are some of them:
Our faith keeps us grounded. Israel's farmers deliberately give up their livelihood for a full year! While they prepare as best as they can in advance, many do not have extra money to put away, nor is it simple to find another job for the year. The farmers do their best, but ultimately, they trust that G-d will take care of them.
Our success comes from G-d. We work hard, but G-d is the one Who determines the success of our efforts. He gives us everything we have, and He tells us that even in the seventh year, when we do not work, we will still eat.
Our possessions do not define us. Shmitah helps us cut back on the "stuff" and focus on who we are and what we do, rather than what we have.
We need to share our resources. During the shmitah year, anyone may partake of the fruits that grow on their own. This helps the less fortunate and reinforces Jewish unity.
We all need time to reflect. Just like we all have Shabbat to step back from the hectic pace of the week, shmitah is a time for farmers to reflect and to focus on Jewish learning, spiritual pursuits, and family.
The Land of Israel is G-d's holy land. Although He has given it to us to work and develop, He "takes it back" temporarily so that we don't start taking it for granted.
Israel's farmers are proud to keep shmitah—but they still need to pay their bills. Help them support their families with confidence at SupportOurFarmers.org.
That's why Shabbat is the perfect time for me to show my solidarity with the farming families of Israel. I've got a delicious shmitah-themed menu planned and its based on the Shivat Haminim, the Seven Species that Israel is known for (seventh day, seventh year, seven species—seeing a theme?).
The seven species refers to the seven foods listed in the Torah as being special to the land of Israel. They include wheat, barley, grape (wine), fig, pomegranates, olive (oil), and date (honey) (Deuteronomy 8:8). All of these foods have become more and more trendy in the last several years and has helped put Israeli food on the map. 
For our Shmitah Shabbat menu we incorporate as many of the 7 species as we can in each dish, starting with a very special challah. 
In this challah recipe we found a way to incorporate all 7 species and still be delicious.  Impressive and delicious, this challah recipe is truly a delicious way to celebrate nature and Israel.
Sweet Potato Tahini with Silan
Instead of simply pairing our challah with hummus and tahini, this week we want to suggest dressing up your dip with sweet potato and drizzling it with some silan (date honey) to bring in one of the seven superfoods of the bible. 
In addition to the seven species of which we included lots of olive oil in this salad, we also wanted to feature tomatoes because they are very connected to the modern land of Israel.  Tomatoes didn't originate in Israel, but the agricultural geniuses in Israel have developed the best tomatoes.  They are known for their superior taste, their disease resistance and their ability to last longer.  
Slow roasting tomatoes amps up their natural sweet flavor. The recipe calls for cherry tomatoes, but feel free to use any tomatoes you have on hand. 
For the main course we couldn't resist sharing another recipe that encompasses all the 7 species and it's a one pot dinner so everyone will have time to make this easy menu. 
With a name like this you know it's got to have a great connection to the land of Israel.  We love this fruit salad featuring the best of the season, but you can easily swap fruits to what you have where you live.  Don't miss the lime and honey dressing. 
Because for some people, dessert is not dessert if it doesn't have chocolate, these healthy raw chocolate brownies use dates for texture and flavor. 
This Shabbat along with our special menu, take a few minutes to try out one of these challenges: 
Think of an area of your life that you've been trying too hard to control. How can you take a step back and let G-d do His part? 
At the Shabbat table, thank G-d for what He has helped you achieve in your life, and recognize His Hand in your accomplishments. 
Print an article about shmitah and share it with your family. Here's a beautiful one from Aish.com.
And don't forget our farmers!  Your support can help Israel's farmers get through this difficult year. Donate or get involved today at SupportOurFarmers.org!