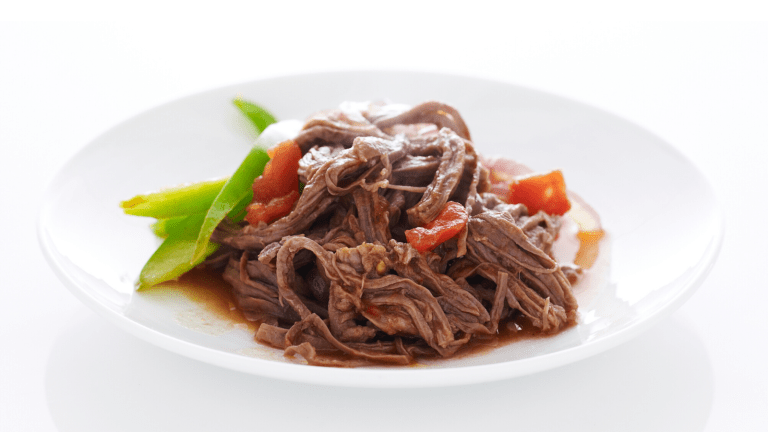 9 Favorite Seder Mains - Chicken and Beef Recipes
When it's time for Shulchan Orech, the meal of the Passover seder, these stovetop mains (and roasted sides) make a perfect main course
During Passovers of long ago, the Jews would bring the Pesach sacrifice at the Beit Hamikdash, and then roast and eat the meat for the Seder meal. Today, many of us refrain from roasting meat at the Seder so no one should think that we are trying to replace the Pesach sacrifice. These three quick and easy entrees cook completely immersed in liquid. To complete the main course, we leave the roasting for the veggies and sides.
I've kept my comments brief so you can get to planning, shopping and cooking quickly.
Chicken
Lemon Wine Poached Chicken with Caramelized Baby Carrots and Pearl Onions
It's not too hard to be an easy breezy gourmet if you know how to combine flavors like lemon and white wine, master poaching (simple, see this recipe) and make it your mission to cook with all the adorable mini veggies on the market, like baby carrots and pearl onions.
Orange Chicken Thighs with Beets and Sweets
My mom is the one who told me to ask the butcher for boneless skinless dark meat chicken cutlets years ago. She may not know how or even care to cook, but she sure has great taste in food. I love her for this discovery. Now super common everywhere.
To save her newly married son from starvation, my mother-in-law, Karen, showed up one day and tactfully suggested that she and I cook a few things together. It's a good thing she did, too. This was the first dish we tried. Her version was a huge hit, but took triple the time that this one did. Now that I've adapted her recipe with my shortcuts, I don't have to cringe every time my husband requests the dish. I'm grateful to her for this, and her many kindnesses over the years.
Cold Poached Spinach and Walnut Pesto Chicken
Simple, light, and perfect hot or cold. Leftovers are great over a salad too. 
Cozy and savory, this simple chicken and pasta sauce recipe can be served over a bed of quinoa on Passover. 
Meat
Expected and foolproof, the per
The expected brisket with a fruity twist, yum!
Unexpected, this slow-cooked Spanish meat is another way to serve meat this holiday, you will love the unusual flavors. 
Sweet Cabbage Brisket with Thyme Roasted Potatoes
One of my most beloved Passover recipes is the Un-Stuffed Cabbage Soup from my first book, Quick & Kosher Recipes From The Bride Who Knew Nothing (that's me!). This is an entrée inspired by the family, friend, and neighborhood favorite.
Chag Kasher V'Sameach, A Zissin Pesach, Happy Passover!