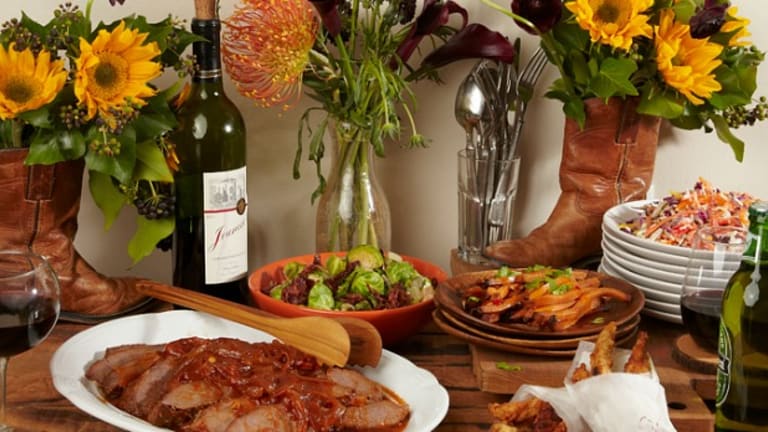 Irony of all ironies, the year before we made Aliyah we were dressed like Israelis (don't ask) and delivered mishloach manot full of pitas and hummus.   Then when I got to Israel I went for a cowboy and cowgirl costume for the family and made a down home all-American meal. Now, I'm not all that creative, and not all that country, I just stole a page out of my friend Aliza's playbook. A few years ago she hosted a food-from-the-frontier shindig and together we created a menu similar to the one you see here. I'm not embarrassed to admit it because, on this side of the pond, I've got a whole new crew to share it with. These recipes already had a test run, and I know this meal is going to make y'all scream yeehaw (or at least yummy!).
The secret is the cocoa, really! This spunky, chunky, spicy chili is a cool starter when topped with cold soy sour cream and fresh avocado slices. Adjust the heat to your liking by tweaking the ancho chile powder, cayenne and paprika.
This brisket must be made at least the night before for soft, tender, melt-in-your-mouth meat. Better yet, make it easy on yourself and make it now - freeze it for fabulous fall-apart brisket.
Southern Fried Chicken Fingers
Only the best kosher fried chicken you will ever have. To make classic fried chicken use a 3-pound chicken cut in ⅛ and all you have to do is adjust the frying time to 6 to 8 minutes on each side and then continue frying and turning 2 to 4 minutes or until chicken is golden and brown on all sides.
Surprisingly I tasted this dish at an all-you-can-eat Brazilian Steak house in Jerusalem, but thought it would be just perfect for my little
bit country menu - especially when I saw the bottle of Chili-Garlic sauce on the shelf at my local market.  A blend of ground chilies, garlic
and vinegar, Chili-Garlic Sauce can usually be found in the Asian section of larger supermarkets (and apparently small Israeli markets as
well) and will keep for up to 1 year in the refrigerator after opening.
Brussels Sprouts with Beef Bacon
A traditional way to enjoy Brussels sprouts is made possible to the kosher cook with the release of the hottest new product, Jack's Gourmet Kosher Facon, winner of the Kosherfest 2012 Best New Product Award.
I now share my new absolute all-time favorite coleslaw recipe. I will never buy coleslaw again (unless of course I don't have time to make this!).
Variation: Don't have tofu cream cheese on hand, or don't care for it? Use tofu sour cream instead. Although if you don't care for the pareve cream cheese I am guessing the sour cream is off your list too. Easy enough, just use 2/3 cup mayo and call it a day. Also try adding half a red onion thinly sliced for a slight bite.
I lu-huve tart Granny Smith apples in my pie. But you can use whatever you like or have on hand. Since you're cooking the apple "pie" filling on
the stovetop you thereby control the timing, and don't have to worry about using baking apples or coordinating the doneness of your apples with your crust. Simple, sweet, and sassy, this chic cowgirl dessert has attitude — it says "I choose to serve my pie in style" instead of "I am way too lazy to roll out a crust!"
Mishloach Manot Idea - Use packaging from your local takeout joint to put together a cowboy themed Mishloach Manot.  Place the chili in small condiment containers and the chips in French fry paper 'plates'.
Printables - Download the cowboy party printables for your own Purim cowboy feast.  Now you have a menu, napkin holders, wine bottle
covers and banners to add an exciting feel to your Purim party. Printables created by www.thepurplepaperie.com
As seen in the Joy of Kosher with Jamie Geller Magazine Purim 2013 (Subscribe Now)