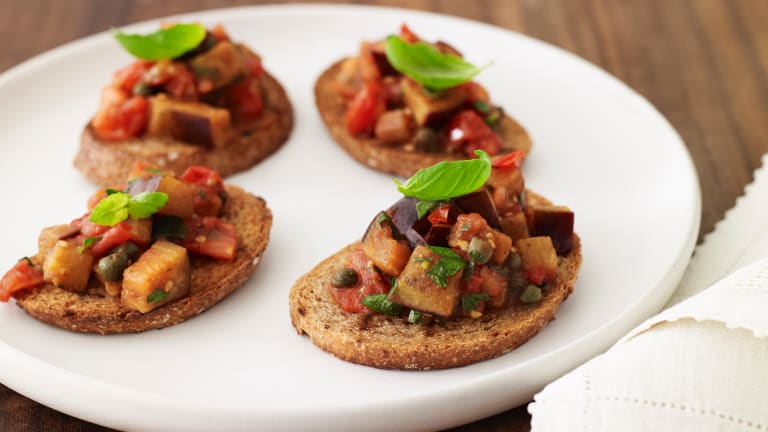 Italian Themed Purim Menu
When you want to get away from the same ol' same ol' Purim seudah, a great idea is to have a themed menu. Why not go all out? Get into the spirit with music, table décor and costumes. Of course, spirits help you get into the spirit, so don't skimp there either.
But let's stay sober for the moment. We've got to consider our themes, and I've got three terrific ones for you – Italian, Mexican and Persian. Today I'm breaking out our Italian menu. Mama mia – you're gonna love it!
You can have a lot of fun with this one: play Italian themed music in the background, (Am I dating myself when I suggest "That's Amore"?) Make your home look like an authentic Italian restaurant with menu cards, checkered tablecloths, family-style (not frilly) platters and serving pieces. To really add to the atmosphere, put down a few bottles of Cantina Gabriele's Semi-Sweet Red wine: it comes in a cute rounded Italian bottle with straw covering the lower half, just like all the traditional wines from Tuscany.  And why not throw in Italian restaurant-style bibs to protect your guests' clothes or costumes while you're at it?
But let's get down to the serious stuff: the food. Italian food is not just pasta and pizza, and this is a festive meal, so here's a delectable menu that is sure to please your crowd.
We'll start off with Eggplant and Tomato Crostini – a great twist on the standard bruschetta style starter (although I adore that too). Eggplant is my new love – I just can't get enough of it these days. Once you try this app, you will be hooked too!
Let's follow that with Pappardelle with White Beans and Olives. 
What are pappardelle? They're wide fettuccini noodles. This dish is enough for a meal on its own, but we're eating Italian style, so there has to be even more food! Your star for the main is Pesto Roasted Chicken. 
Folks, the aroma of this roasting in the oven will hit your guests as they walk into the house and have their mouths watering till you bring it to the table. Serve it up with a side of Spicy Braised Broccoli Rabe.
 This perfect veggie compliments and balances all the fab flavors of this meal.
The grand finale, your sweet sensational finish: Affogato. 
I just love the way the word sounds. Don't know what affogato is? It's a coffee-based ice-creamy dessert. In other words, molto yummy.
Let us know about your themed Purim seudah! Go ahead, spill the beans: what's your theme, what will you serve, and how do you make it authentic?
Mange!