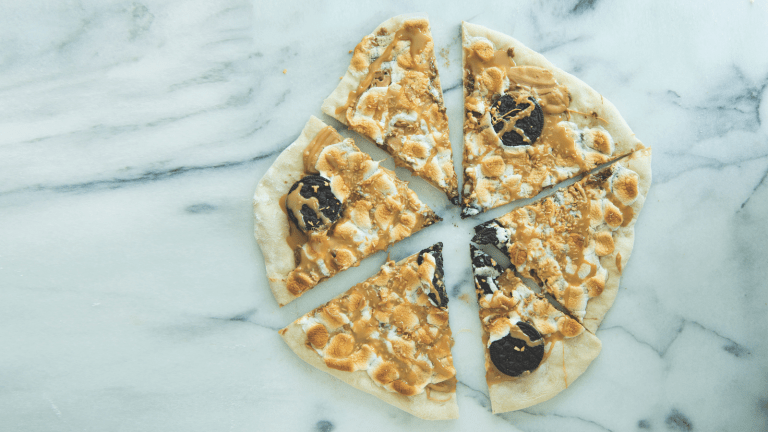 A Scape Goat Shabbat Menu
Goat a minute?  Reading this week's parsha, Acharei Mot, we are reminded of the centrality of the humble goat in the Jewish tradition.  It is from this reading (which is retold on Yom Kippur), that the notion of the "scapegoat" emerges. The Kohen, seeking atonement for himself, his household and the entire nation of Israel, confesses all of the sins of the people to the goat of Azazel and sends it off into the wilderness.  It is an auspicious week to remember the goat by trying a recipe made with goat cheese.  Jamie Geller's Potato and Goat Cheese Triangles are the perfect appetizer for a dairy Shabbat dinner.  They can be prepared in advance, reheat well and are sinfully delicious!
This week is also the first Shabbat after Pesach so we celebrate by making a key shaped challah just like this one. Read more about the Schlissel Challah and how to make it here. 
POTATO AND GOAT CHEESE TRIANGLES
Puff pastry gets a savory addition of potatoes and goat cheese that are perfectly seasoned with fresh lemon zest for a beautiful light appetizer that will both impress and satisfy.  
COLORFUL GARDEN SALAD WITH CREAMY PESTO DRESSING
An exquisite, colorful garden salad with creamy pesto dressing. Don't forget to display it proudly in a clear, glass bowl.  
PARMESAN AND SUN-DRIED TOMATO-CRUSTED TILAPIA
Lela Tessler, a great cook from Philly via Odessa, gave me the very simple Parmesan crusted fish recipe that this dish is based on, and I thought the addition of sun-dried tomatoes was a great complement to the Parmesan. If you're not a fan, leave them out. The dish will still have plenty of flavor.  
GOAT CHEESE AND SPINACH QUINOA CAKES
They make for a fantastic appetizer or a savory side to go along with any meal. This version is crispy on the outside and melt in your mouth on the inside. 
Since it is the Shabbat after Pesach we figure you are going to have lots of pizza cravings, let's use that in dessert. 
Click here for last year's Shabbat Menu with Israeli Fruit Salad.