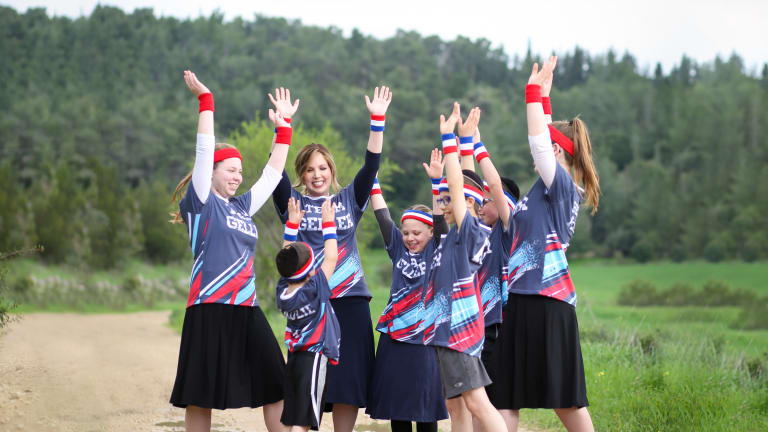 21 Awesome Family Themed Purim Costumes
Purim is not only a time to rejoice; it's also an opportunity to unleash your inner Martha Stewart! A far cry from the ratty clown costume of your youth, themed family costumes and coordinating mishloach manot (food gifts to friends) are an outlet for creativity and sure to spread smiles on this happiest day.
Check out these 20 winning Purim costume and matching Mishloach Manot ideas below:
1. Cops & Robbers
Devorah Lehrer, creator of the popular Facebook group, "purim themes and ideas for shalach manos!", has a passion for the holiday of Purim, and she's not alone. "It's incredible how there are over 15,000 members [in my group]", she notes. Not a case of the shoemaker going barefoot, Devorah delights in family-themed costumes and her teenager even finds a way to put his own spin on the choice. This year, they revived the classic "Cops & Robbers", by dressing as either robbers or policemen, with her son clad in a "Steelers" cap and t-shirt. For MM, they gave out coffee & donuts, in a novelty money sack with the message: "Police (Please) steal yourself a moment to have arrest-ful cop (Chag) sameach"
Source: Devorah Lehrer, North Miami Beach, FL
2. Mary Poppins
The Bendahan family ensured a "Jolly Holiday" when they dressed up as Mary Poppins, Bert, chimney sweeps, and the penguin from the "Jolly Holiday" scene in the beloved Mary Poppins film. The mom even fashioned the squawking parrot on the end of Mary's umbrella from papier mache! They gave out spoonful of sugar cake pops (dipped in white chocolate and sprinkled with sugar), little bags of granola to "feed the birds", two chocolate coins "tuppence", and linzer tart cookies from the "cakes and tea".
Source: Yael Bendahan, https://www.facebook.com/yael.bendahan, Ramat Beit Shemesh, Israel (originally London)
3. Wizard Of Oz
Having just made Aliyah to Israel, there was truly "no place like home" for the Rubinstein family. Dorothy, the Scarecrow, the Cowardly Lion, Glinda the Good Witch, & even the Yellow Brick Road ("Follow me!") were all featured. For MM, they gave out wicker baskets filled with rainbow Mentos, Carmel grape juice, a bar of Elite chocolate, and halva, to symbolize their new home in the Land of Israel with a nod to the movie. 
Source: Yael Rubinstein, Modiin, Israel
4. Men In Black
The Neumann family cleverly incorporated their last name into their theme by dressing up as the "Newest Men in Black" team… NIB: Neumann in Black. Decked out in black suits and sunglasses, they expertly channeled the iconic agents and handed out corresponding mishloach manot (including Milky Way chocolate!) with the phrase, "Protecting the Earth from the Haman of the Universe"
Source: Shira Neumann, Maryland 
5. Chessmen
This family also elevated a common theme to one with spiritual undertones, by costuming themselves as chess pieces. With the slogan, "Every Pawn Is A Potential Queen", they referenced a rule of Chess as well as Queen Esther's role in the story of Purim as a pawn of G-d's master plan when she became a Queen to save her nation. Their MM consisted of black and white treats & Pepperidge Farm's "Chessman" cookies, all packaged in a checkerboard box.
Source: Yelena Hertzberg https://www.facebook.com/yelenakh, Atlanta, GA
6. Basketball Players
Here's a slam-dunk of a costume that can double as a pregnancy announcement! With the wife's baby belly as a basketball, the husband a hoop, and their dog wearing a basketball jersey, they handed out MM in basketball-themed baskets, complete with oranges disguised as basketballs and bottles of whiskey with a fun drinking game: "Make a shot, take a shot".
Source: Ale Schlesinger, Givat Shmuel, Israel 
7. Israel's 3 Elections
This witty family in Israel took inspiration from current events- Israel's 3 elections in a period of 1 year- but this time, there was a clear winner! For MM they made a blue cocktail called the "Kalpi" (Hebrew for ballot box), popcorn to eat as you watch the elections unfold, and dairy chocolate ganache salted caramel hamantaschen- because yum.
Source: Emily Wind, Jerusalem, Israel
8. Art Basel's Taped Banana
Sometimes true events really are the greatest sources of humor. This woman jokingly suggested Italian artist Maurizio Cattelan's "Comedian" duct-taped banana art as a Purim theme to her parents, and they executed it perfectly, down to the banana cake with a duct taped banana on top for mishloach manot. We're hoping they didn't cost $120,000 apiece though!
Source: Faye Sossonko, Hollywood, FL
9. Italian Mobsters
This family also took their costume cue from the kids. All of their children wanted to be secret service/undercover agents so the parents joined in and dressed as Italian mobsters. Tapping into the silliness of the day, they dressed in over the top outfits that would put the Sopranos to shame, and handed out dessert pizzas in "Vinnie & Nickie's Pizzeria" boxes.
Source: Avigayil Warburg, https://www.facebook.com/avigayil.warburg, Ramat Beit Shemesh, Israel
 10. Hipsters
All hail avocado toast! The Heidemans channeled a different element of Brooklyn- hipsters. MM included kale chips, chia bars, Kombucha tea, baby avocado and a metal straw. Packaged in a 100% eco friendly, compostable clamshell. #woke #vegan #organic #avocado #pleaserecycle ♻️🥬🥑 
Source: Shira Heideman, Baltimore, MD
11. Beatles Songs
Beatles songs are also great costume inspirations. This family of 4 dressed as a mashup of the band's music, including Hippy Shake/The Yellow Submarine, I am the Walrus, (E) in the Sky with Diamonds, and Strawberry Fields. They handed out cut-up fruits, also in theme: Grape Days a Week/ Eight Dates a Week, You'll Be My Clementine, Let It B-Nana, Strawberry Fields, Kiwi Can Work It Out, and a chocolate heart -because All You Need Is Love.
Source: Ayala Hyman Jerusalem, Israel
12. Laundry
Usually no laughing matter, the Garellek family spread Purim cheer by masquerading as laundry- including a washing machine, dryer, detergent, and the cutest dirty laundry basket you've ever seen. They gave out cookies decorated as Tide pods and stained shirts, with a blue sport drink to mimic their branded Clorox, all packed in a clean laundry bag.
Source: Jamie Hasson Garellek, https://www.facebook.com/JamieHasson, Brooklyn, NY
13. Amazon
Drawing inspiration from another constant in our lives- the Lustman family of Israel expressed their appreciation for Amazon's new free shipping to Israel by delivering mishloach manot dressed as Amazon employees. 
Source: Lustman Family, Chashmonaim, Israel
14. Disney
Always a classic, and Purim story-related with princesses, evil Queens, & happily ever afters, the Rosenbaums combined multiple Disney characters into one magical theme. Belle, Prince Charming, Tinkerbell, and Ariel handed out treats such as Snow White's poisoned apple, Pixy Stix candy powder for pixie dust, Hershey's kisses, cheese crackers for Cinderella's mice, and hamantaschen for Haman's hat. 
Source: Shira Rosenbaum, Bala Cynwyd, PA.
15. Rub-A Dub
Rubber Duckies make Purim so much fun! This bathtime theme was complete with soap bubbles, a bar of soap, and a toddler dressed as Nemo (he didn't want to cooperate). They handed out water, marshmallows for bubbles, a cookie cleverly designed to look like a soap bar, and a plastic rubber duck.
Source: Gabi Kagan Hayman Melbourne, Australia
16. KFC
This finger-licking good theme featured Colonel Sanders, a chicken, and the shochet. They gave out chicken soup and chicken drumstick shaped cookies, with a poem linking the Purim story to witty puns about Master Chefs & food.
Source: Adina Dan, Rochester, NY
17. Bees
The Wolbe family surely had a Hap-"bee" Purim by revamping an oldie but goodie. A play on words of their last name, they dressed as all different WolBEES: BeeBee [Netanyahu], Queen Bee, Carpenter Bee, Spelling Bee and ReBEE. Mishloach manot was granola in mason jars, Greek yogurt, a wooden spoon and a honey stick tied together with twine, with the message, "Wishing you a bee-utiful Purim".
Source: Esty Wolbe, Brooklyn, NY
Here is my version of the Honey Bee Costume, I'm the bee keeper!
18. Do-Re-Me-Fa-So-La-Ti
The Asher family's baby, Adir (pronounced: "Ah Deer"), was born right before Purim last year so this was his first year in costume and inspired the theme: Doe Adir (Deer), Ray (Sun), Me (Name Tag), Fa(r) (Marathon runner), Sew (Seamstress), La (Singer), and they gave out tea, jam and bread.
Source: Aliza Asher, Richmond, VA
19. The Very Hungry Caterpillar
The classic tale, The Very Hungry Caterpillar is not only a delightful book, but an adorable costume theme as well. The Wesfield family dressed as the The Very Hungry Caterpillar himself, the apple he ate, and the butterfly he eventually transformed into. Their Mishloach Manot contained some of the things the caterpillar ate (except probably not ice cream or leaves!)
Source: Zahava Pinsker Wesfield, Givat Shmuel, Israel
20. Trophies
Yona Openden loves Purim, and through her elaborately themed costumes, infuses that joy into her family too. Last year, they went as bronzed trophies, with their photo even going viral (the good kind). The final product was a result of "about a week spray painting clothes in the backyard". The rest is body paint - Mehron Gold. Her husband was in charge of the milkcrates which he turned into stands. The gave out a golf themed mishloach manot, in matching golden hues, for a first-place win at Purim.
Source: Yona Schwab Openden, Baltimore, MD
21. Marathon Runners
Jamie and family dressed as marathoners together in 2020, check out all her last-minute family-themed costumes.
Feel free to share your family-themed costume ideas in the comments below, would love to see your pictures.