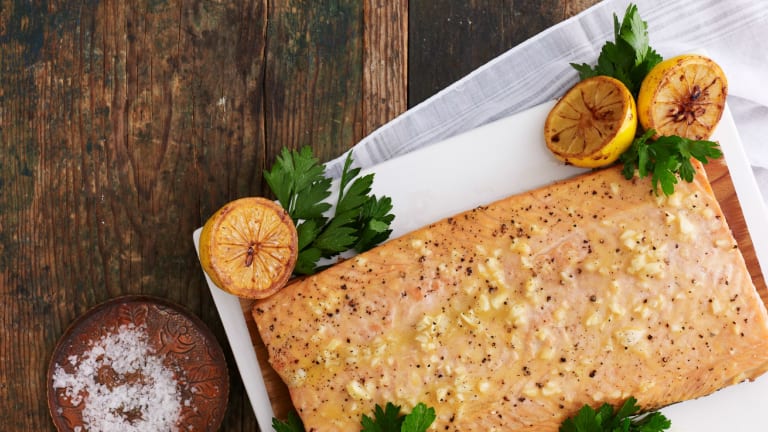 Best Recipes for Shabbat Lunch
The Shabbos lunch menu must feature make-ahead dishes that can withstand the oven-to-fridge-to-hot-plate-to-table cycle with leftovers returning right back to that revolving refrigerator door. Follows are a few of my secrets to Shabbos lunch success.
First thing's first, the first course. I sometimes serve a bang it out starter akin to the last supper. You'd think that I think that we're never gonna eat again. But I feel the first course is the most Shabbos lunch-friendly and when done right allows to you to satiate the hungry humans around your table and simplify the main – which by all accounts is certainly the trickier of the two.
The Fish Course
Some elegant and creative non-traditional ways to feast on fish.
Tuna Tartar with Honey Sesame Wonton Crisps
Gefilte Fish Cakes with Horseradish Sauce
Signature Dish
Everyone should have one.  (Not really a rule, but it's cool if you do).  A side of salmon surrounded by seared lemons and tomato salad served on a nice big beautiful platter is my Shabbos lunch signature dish.
Serve Persimmon Salsa alongside my Honey Baked Salmon or go for a pretty multicolored heirloom or grape tomato salad dressed simply in olive oil, lemon juice and S + P.
Sweet, Savory, Satisfying Salads and Slaws
You can decide to serve these salads and slaws as part of your super-sized starter course or sprinkled in with your main. Either way, salads are a safe staple for Shabbos lunch.
Salads
Salad Stuffed Grilled Portobellos
Potato Salad with Arugula and Tomato
Slaws
I am the cabbage queen always looking for fun and fancy ways to savor slaw.
It's All About the Crock-Pot Baby
There is always my Hubby's famous Family Heirloom Chulent. It was so cool when my/his recipe was published in the New York Times.
Or when you want something a little lighter try my somewhat Sephardi chicken cholent. 
Or try something new in that slow cooker – Beer Braised Brisket. I sometimes go half beer and half beef broth.
Room Temp is Your Friend
There are plenty of dishes that need not be served steaming. Chicken breast cutlets at room temp are far better than dried out, rubbery, warm chicken.  Green beans also work both hot and cold and at every temp in between.  Additionally, protein spiked salads and some starchy sides don't require hot plate space.  Serve the following dishes in their Shabbos day finest form, at room temperature.
Chicken Recipes

Oven-Baked Chicken Fingers with a Duo of Dipping Sauces
Main Salads
Starchy Sides
Green Bean Sides
Green Bean and Three Onion Saute
French String Beans with Slivered Almonds
Kugel
Noodle kugles can be made ahead and re-heat really nicely. And now you'll actually have room for them on your hot plate.
Salt and Pepper Kugel with Roasted Garlic
Sandwich Bar
Serve savory "sandwiches" as bites.
Cut this Turkey Sandwich with Pickled Red Onions in half and cut each half in half again for the tea sandwich version of this classic.
Love this re-make of the deli roll.
I say serve this Tropical Chicken Burrito for Shabbos just cause it's unexpected and fun. Put some Mexican spices in your chulent and plate with shredded lettuce and diced tomato salad topped with corn and avocado.
Have the bestest most delicious, most happy, most ful(l)filling Shabbos! Oh, and don't forgot to share and share alike. Let us know in the comments below what you serve for Shabbos day.