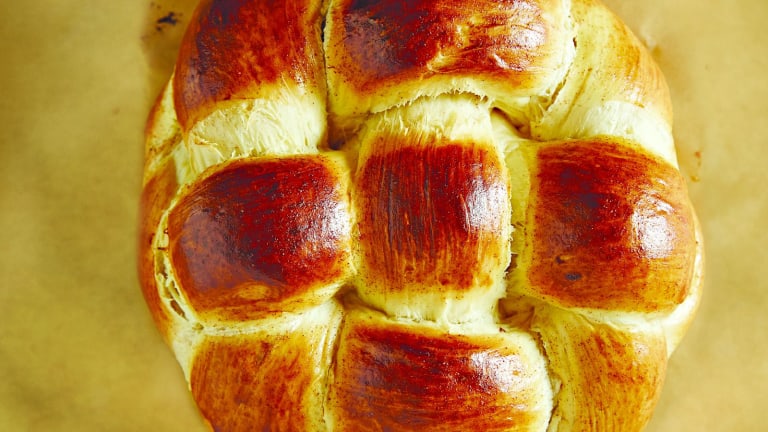 How To Shape and Stuff Round Honey Challah For Rosh Hashanah
As much as I love experimenting with exciting flavors for the New Year, I also loving making tried-and-true classics like a cinnamon and honey laced challah, I also love stuffed challahs and unique shapes.  Here are 2 sweet ways to make your challah extra special this year. 
The exciting part about this challah is actually its basket-weave design. The first time I even heard about such a unique challah was from a former co-worker, Chayie. As she described the challah, my mouth watered but I couldn't quite figure out how such a braid might work. But Chayie was determined to teach me how to master this technique. She brought a container of play-doh to work and taught me how to make this beautiful basket-weave challah using play-doh right at my desk. I will never forget her patience and kindness, and so each year as I braid my rounded challahs, I recall this sweet memory. 
I can't think of a better reflection to carry with me each Rosh Hashanah and now it's time for me to pay it forward.
Here's the recipe for my Honey-Cinnamon Basket Challah and if you're a visual learner, come back here to follow the step by step shaping instructions. 
Step 1
Lay three strands vertically. Take one of the remaining strands of dough and place horizontally over the first vertical strand, under the second vertical strand and back over the third vertical strand.
Step 2
Take the next remaining strand and do the exact opposite, placing it under the first vertical strand, over the second vertical strand and back under the third vertical strand. Using the last remaining strand, repeat over and under the vertical strands. The strands should make a tight basket weave in the middle with ends remaining on four sides.
Step 3
On the first side, make a traditional braid using the three strands and pinch at the bottom.
On the second side, make a braid using an under motion and pinch at the bottom.
On the third side repeat a traditional braid and pinch at the bottom.
On the fourth side make another braid using an under motion and pinch at the bottom.
Step 4
Fold each braid under the basket, gently pushing upwards as you tuck under.
Step 5
Beat egg yolks with 1 teaspoon water. Brush liberally over challah. Mix sugar and cinnamon and sprinkle evenly on top. 
Follow baking instructions.  
MORE: How to Make a Braided Round Challah
Silan (Date Honey) Stuffed Challah with Cardamom
For many people, Rosh Hashanah evokes a certain kind of warmth and anticipation. The season sings with new beginnings, gathering with family and preparing delicious dinners. 
For me the Jewish New Year is an exciting time to experiment and bring new sweet flavors to my family and friends and I love finding inspiration all around me. 
Whenever I visit Israel it always inspires my cooking and food consumption. One summer when I was there I had Rosh Hoshanah challah on the brain as we meandered through the alleyways of the Carmel market, scouting out unique, Israeli flavors at every turn. Rose water. Spicy chunks of cinnamon. Halva in every flavor. Succulent dates. And my culinary juices started flowing.  That's when this challah was born.  Silan, which is date honey, would be the perfect ingredient to include in a New Year-inspired challah. 
We tried making this challah several ways: with and without tahini, with silan in the dough and with chunks of halva baked inside. But in the end the simple combination of sweet challah dough laced with ground cardamom and stuffed with silan and tahini was the winner.
Get the full recipe for Silan Stuffed Challah with Cardamom and come back here for Step-by-step shaping instructions.
Step 1
Roll out dough into a large rectangle, about ½-1-inch thick, on a lightly floured surface.  Spread an even layer of the tahini-silan mixture all over the rolled-out dough.
Step 2 
Working quickly, start rolling up the dough toward you.  Try and keep the roll relatively tight as you go. 
Step 3
Pinch the end and tuck under when you finish.
Step 4
Create a pinwheel shaped-challah by snaking the dough around and around in a circle.  When finished, tuck the end under the challah neatly and pinch lightly. This doesn't have to be perfect. 
Continue with baking instructions here. 
Note: Add chopped dates to the filling for a play on the classic raisin challah.