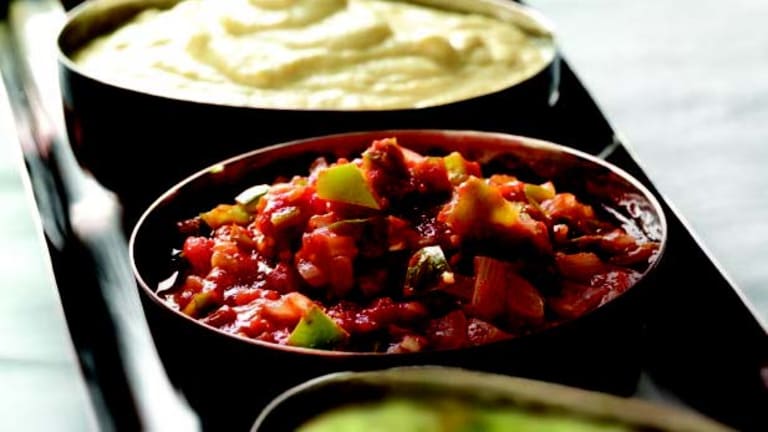 Israeli Salatim Shabbat Menu
In Israel many restaurants start the meal with salatim.  Salatim literally means salads, but it refers to all the dips, spreads and vegetable salads eaten with pita or laffa.  By the time the main course comes no one is even hungry. 
The best thing to do for Shabbat is to serve lots of salatim with the challah and then just some simple grilled chicken or fish for the main, there is really no need for more and will allow you to spend more time making all the yummy salatim, but many can also be found in the store if you want to make it really easy.  
These are some of the essential salads, but there are no rules, choose what you like. 
DOWNLOAD OUR FREE DIPS, SPREADS AND SALAD MEZZE EBOOK FOR MORE RECIPES LIKE THESE. 
Watch Jamie show you how easy it is to make your own hummus, we have tons of different recipes for hummus, but it all begins with chickpeas.
Eggplant is a staple of the salatim course, in many restaurants they serve eggplant at least 3 ways, like in the video.  Babaganoush is likely the most well known, but take your pick. 
Beets add color and lots of vitamins. They are simple to prepare and dress up as you like. 
Cabbage is another mainstay of Israeli salatim.  Both red and green are served with either a lemon/vinegar dressing or mayo for a creamy style slaw.  
Matbucha is Israel's version of salsa, but instead of being served with chips, it is served with all the other salatim with pita and it is really delicious mixed with almost everything else. 
Carrots can also be served in many forms.  From moroccan cooked carrots with a spicy sauce to this shredded carrot salad with a tang. 
Israeli salad is always a favorite, the trick is in the fresh cucumbers and tomatoes.  
Now for the simple, light main...
Stick with simple grilled chicken or take it up a notch with these kabobs.  
OR
Instead of chicken try a spicy fish or you can even follow that same kabob recipe above for fish kabobs.  
DATE AND BITTERSWEET CHOCOLATE TRUFFLES
This dessert shows how dates can be transformed into the best dessert.