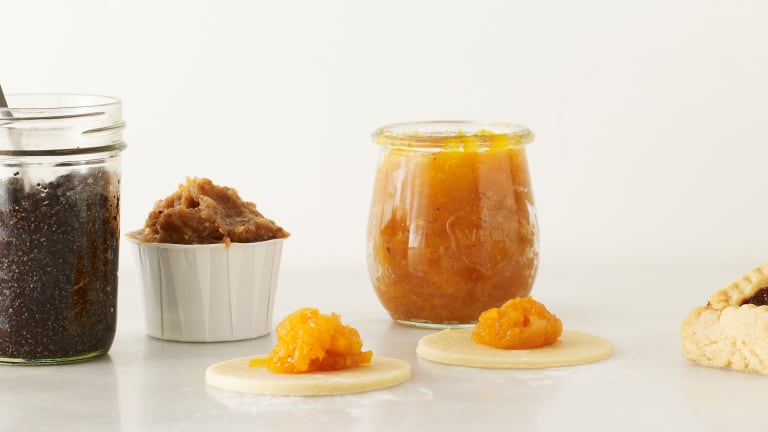 It's The Inside That Counts - Hamantashen Fillings
Jam, Chutneys and Fillings. On Purim we remember, "It's what's on the inside that counts". That's why we have so many amazing recipes for filling your hamantashen cookies. 
When I think of hamantaschen, the first thing that comes to mind is their delicious fruit centers. That's why I chuck store-bought jelly and canned pie fillings in favor of my own homemade versions—giving my Purim cookies otherworldly dimensions.
When most people take a bite of a hamantaschen that is completely homemade, filling and all, they don't know what to do with themselves—the taste is that good. Once you try one of these renditions, you'll never go back to the canned.
This the most traditional hamantaschen filling dating back to the late 1500s. 
Using dried apricots this filling can be made any time of year. 
I like the mix of dates and nuts that make up this filling. 
You can use frozen blueberries to make this fresh-tasting blueberry jam. The final cookie will remind you of blueberry pie. 
This recipe was created for pie pops but is equally good in hamantaschen. 
You will love the smell in the air when you make this filling. 
If you like your fillings a little less fruity check these out. 
Almond paste forms the base of this fragrant filling. 
Homemade Chocolate Hazelnut Spread
This is like a homemade Nutella and makes really delicious hamantaschen filling. 
Get the flavor of halva in spread form, perfect to dip your pretzels or fill your cookies. 
Bittersweet Chocolate and Sea Salt Halva Spread
One more flavored halva spread you will adore. 
And don't miss all our Hamantashen Recipes.