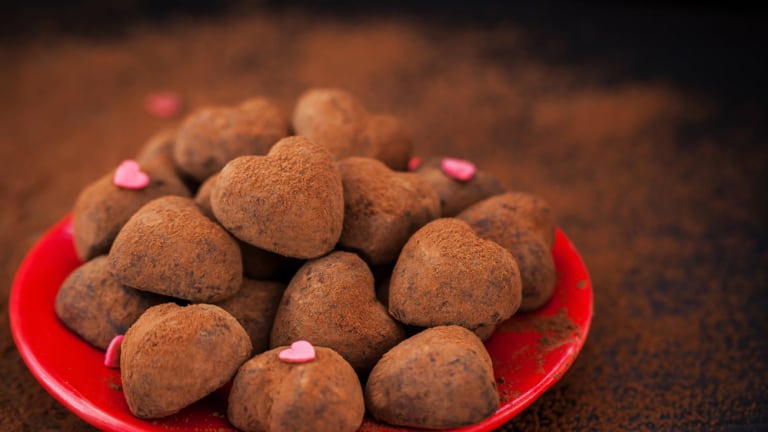 Fall In Love Again This Tu B'Av
Celebrate Tu B'Av, the Jewish Love Day, with the Perfect Heart-Shaped Desserts!!
You may not have heard of the holiday Tu B'Av (literally the 15th of the month of Av), but the Talmud tells us that Tu B'Av is considered the greatest holiday of the year with Yom Kippur a close second (Taanis 26b).
What is so special about Tu B'Av? 
Tu B'Av has many important meanings, but during the Second Temple Period, Tu B'Av was a joyous matching making day for unmarried women. After many years of little observance, in modern times, especially in the State of Israel, Tu B'Av has become the "Jewish Love Day".
In honor of the "Jewish Love Day", which begins at Sunset on Thursday August 11, 2022, we have collected 3 delicious heart filled desserts to give to your loved one.
Walnut Cookie Hearts Filled with Fig Jam
These delicious heart shaped cookies are filled with tasty fig jam and toasted walnuts. If you wrap it up in a little box it becomes the perfect edible gift.
Vanilla Heart-Shaped Meringues filled with Cranberries
A cute and simple treat to serve to your loved one after a delectable dinner. It can be made dairy or parve so you don't have to work your meal around the dessert.
This cake is everyone's favorite. It looks fancy, but it doesn't take took much work and it's delicious!!
You can always try your favorite chocolate cake or ours and cut it out in heart shapes.  Heart Shaped Chocolate Cake. 
What will you be making for your loved one on Tu B'Av? Tell us in the comments below.