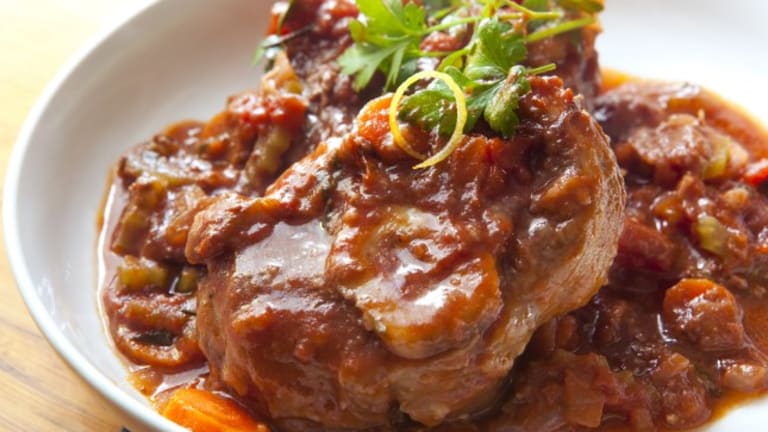 No Shortcuts Shabbat Menu
In Parsha Bechukotai, Hashem promises the Jewish people a great reward if we follow His commandments and the punishment of exile and persecution if we stray. It is tough love.  But Hashem reminds us that even in our darkest hours, in the land of our enemies and when things seem beyond hope, we will not be cast away completely. It is hard to follow directions. The temptation to take a shortcut or "cheat" a little is sometimes overwhelming, but things sometimes taste better when we have to work or struggle a little to get to the desired end result. I am reminded of my favorite recipe (that I save for special occasions), Osso Buco.  A lot of preparation, a lot of directions and little room for error… but one bite and you can't imagine another way. Take a chance on this one.
The Weekly Challah
Start your meal with a simple Caesar salad, dressed up with some chewy sun-dried tomatoes. It's a perfect Italian way to start this delicious dinner. 
Ossoc buco is a slow cooked Italian meat stew perfect for late Shabbat nights because it just gets better as it stays hot.  It does take a bit of work, but I promise it is worth it. 
Risotto is another Italian dish that needs attention and time to make right.  Even though we said no shortcuts you can take one here if you want using a pressure cooker or Instant pot like this Mushroom Risotto recipe. 
We kept the veg simple and quick, but serve these cold, they don't reheat well. 
Turkish coffee is another food that requires time and attention and is never as good when you try and take a shortcut, but it can't be made on Shabbat.  So we turned it into a delicious cake. 
Have a great Shabbat.