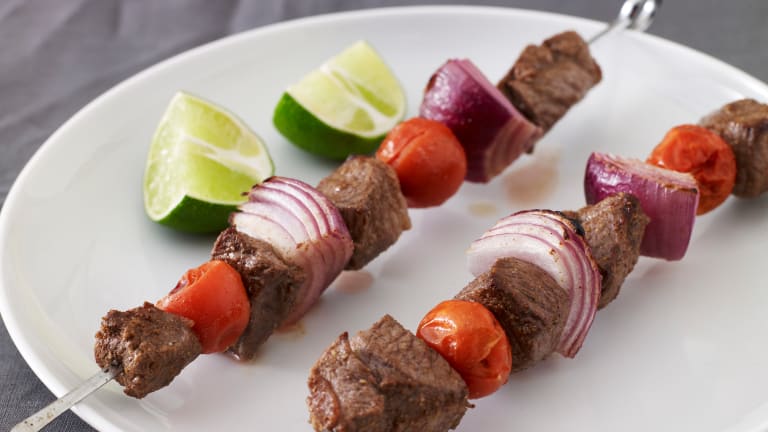 Shabbat Menu - Jacob's Ladder Lamb Kebabs
When we first encounter Jacob at the beginning of this parsha, he is a fugitive. Jacob is fleeing the wrath of Esau following the theft of his brother's birthright and seeks comfort and peace in Haran. When he leaves the land of his fathers, Jacob is a wealthy man, changed by time and circumstances to become the father of a great nation.
What is his secret? It starts with faith and it ends with lamb. Inspired by the vision of the ladder and angels, Jacob sees a future of great hope and promise. He meets Laban and learns the ways of the shepherd. It is his success that merits the marriage to Leah and Rachel. When Laban continues his pattern of doublecross and doublespeak, Jacob doubles down, too. Jacob bargains for his share of the flock and his household and livestock multiply exceedingly. It seems fitting to celebrate this Shabbat with lamb. I love the simplicity of the presentation and how the layered skewers evoke the steps of Jacob's ladder to heaven.
It starts with a creamy soup with a touch of sweetness.  
LAMB, CHERRY TOMATO AND RED ONION KEBABS
Either on the grill or inside in the broiler, you can prep these the night before and cook them up quickly just before Shabbat.  
LONG GRAIN AND WILD RICE SALAD
The mix of black wild rice in this side, gives it a ton of flavor and interesting textures. 
WILTED SPINACH WITH CRISPY GARLIC
Delicious hot or room temp, this sautéed spinach is simple, but the crispy garlic brings it to another level. 
COSMOPOLITAN BREAD WITH VODKA ORANGE GLAZE
End it with a cake. 
For last year's Shabbat Menu Vayeitzei click here.