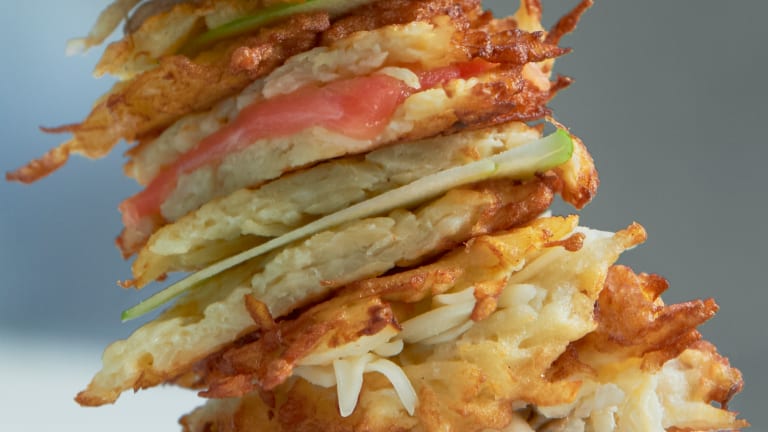 Stuffed Latkes
A latke with a surprise in the middle is a great way to update the classic Hanukkah dish. Be creative and stuff latkes with anything you have on hand. Maybe even use it as a way to get your kids to eat their veggies by adding peas, broccoli, tomatoes, zucchini, or spinach.
Start with my favorite Basic Latke Recipe.
Then choose your filling:
Salmon + Green Goddess Dressing
The crispy potato latke, with the smooth fresh taste of salmon makes for a great combination. We love either Green goddess dressing, a mixture of herbs and sour cream, or with creme fraiche to add color and flavor to this impressive latke.
Pulled Brisket + BBQ Sauce
This combination tastes similar to a pulled beef sandwich; the ultimate latke for any meat and potato lover.
Mushroom + Sour Cream
The earthiness of the potatoes and mushrooms make for a rustic and classic flavor combination. The sour cream adds richness to the latke.
Our version of mozzarella sticks...latke style. A gooey, cheesy center with a hint of basil surrounded by crispy potatoes is a spectacular Chanukah treat.
Apples + Sour Cream with a Cinnamon Topping
Inspired by the classic latke with apple sauce on the side, this latke takes on the flavors of an apple fritter.
There are so many ways to stuff a latke, let us know your favorites.