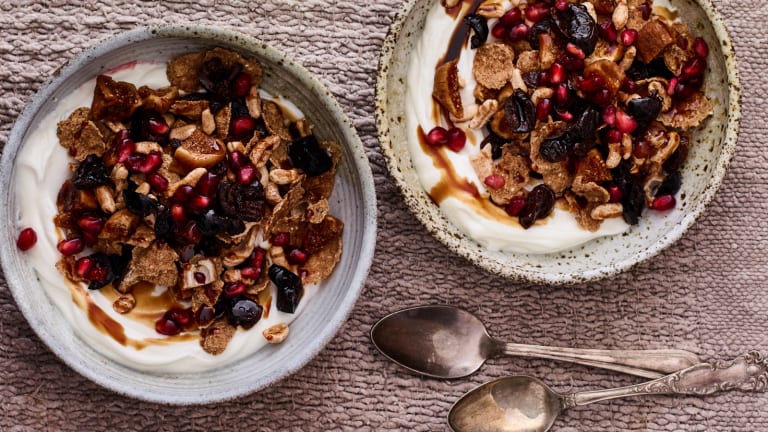 3 Symbolic Tu Bishvat Recipes With All 7 Species
Tu B'Shevat, while once very much glossed over, has now become en vogue. And so it's trendy to recognize the birthday, or more literally the New Year of Israel's trees with a Tu B'Shevat Seder.
Seders ain't just for Passover anymore my peeps.
In addition to a Pesach Seder we have a Rosh Hashanah Seder and a Tu B'Shevat Seder and so you now need some recipes. Because, while it's fun to taste and recognize each of the land of Israel's 7-species individually it's much more of a party on your plate (and your palate) if we get the 7 super foods of the bible all together in one dish.
Let's work our way up with these 3 recipes:
Easy peasy. Sweet and savory. This is going to be your new, crunchy, go-to-topper for yogurt, but feel free to use on oatmeal, salads and more. And yes, you are allowed to eat it straight. As my Noeeee likes to say "you let Ima, right?" And so yes, in this case, I do "let".
People always wanna know what's a kugel. The simple answer - anything and everything - is a kugel. Seriously, if you can throw it in a casserole dish and bake it you can serve it as a kugel along with your main course. Or eat the entire thing as your main course. As will be the case here once you taste it topped with a hefty "dollop" of yogurt!
Now we partyyyy. The ultimate Jewish bread gets the ultimate makeover by featuring the fruits and grains of the land of Israel. Few things coming out of your oven will have more meaning than this here challah and with Tu Bishvat falling on Shabbat this year it is the best recipe. 
Happy Tu B'Shevat