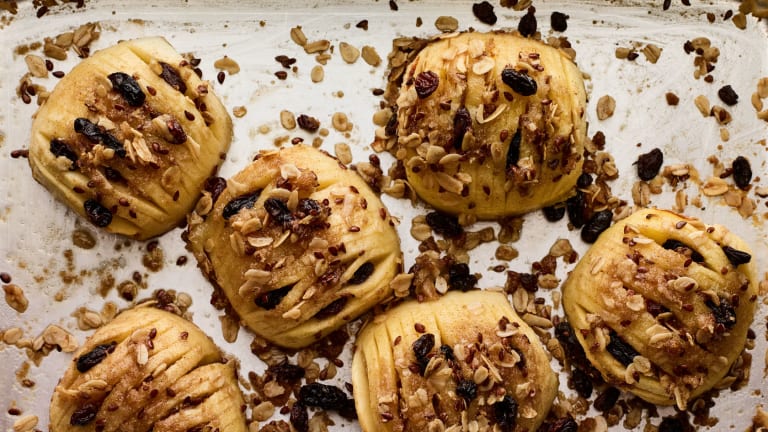 These Veggies and Fruits Are Worth the Hassel
Hasselback potatoes--sliced, stuffed, and roasted potatoes--are a Swedish dish that's really taken off. First served at Stockholm's Hasselbacken Restaurant in the 1950s, today's home cooks embraced this technique, stuffing potatoes with a multitude of different fillings and flavors.
But why should potatoes have all the fun?
We've hasselbacked some of our favorite fall veggies and fruits for a unique spin on this fun food trend. Veggies make perfect side dishes to pair with meat, chicken, or fish. And hasselback fruits make a kid-friendly pareve dessert.
So whether you've mastered the technique and want to try something new, or this is your first hasselback rodeo, check out these fun and delicious twists to discover a new family favorite.
Hasselback Butternut Squash just may become your new favorite side dish. Omit the cheese and pair this with your favorite roast chicken, beef or fish dish.
Roasting brings out the fruit's natural juices and intensifies its sweetness. Coconut oil, instead of butter makes this a great pareve dessert.
HASSELBACK SPICY ROASTED CARROTS
Ancho chiles give these carrots some heat. Use regular whole carrots, or purple and yellow ones to add more color to your plate.
Firm apples like honeycrisp and Granny Smith work best in this recipe since they hold their shape while cooking.
Now that you have the technique and some inspiration, it's time to hasselback. What are your favorite veggies and fruits to prepare this way?
Want stories like this delivered right to your inbox? Sign up now for our *free* JOY of KOSHER Newsletter.