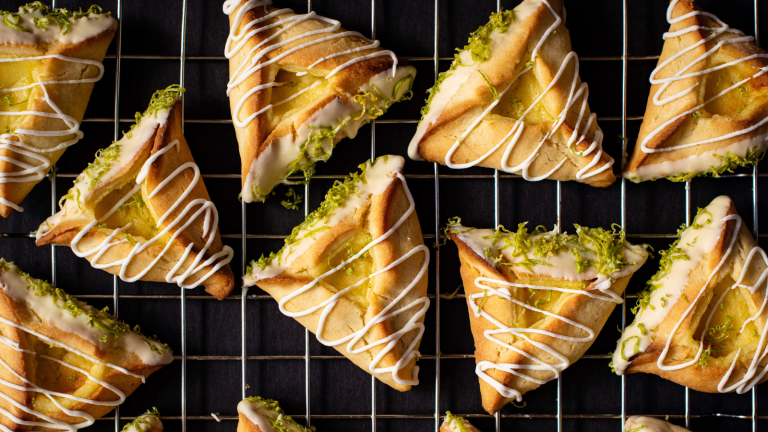 The Ten Best Hamantaschen Recipes Plus Hamantaschen Hacks
It's that time of year, our sleeves are rolled up, the dough is rolled out, and we are making dozens of hamantaschen for inclusion in our Mishloach Manot.
Here are some wonderful suggestions for you for this year - from the classic to the decadent chocolate filled, you will find a hamantasch for everyone.  Keep scrolling for some incredible hacks to make fancy-looking hamantaschen even easier. 
Classic Buttery Hamantaschen with Easy Poppy Seed Filling
These hamantaschen are made in the traditional Israeli style with the ever-popular poppy seed filling.  The dough uses butter and finely ground almonds to give it tremendous flavor. 
This dough is super simple, no mixer required, just a bowl and a spoon and all your favorite fillings.  (no refrigeration required either). Dress these up with pink chocolate and candy hearts. 
If you like a yeast dough for your hamantashen, a truly classic, original way to make them, then this one is for you. They are not like the cookie versions most of us are used to, but something different to try.  Can be made dairy or parve.
Watch How To Fill and Shape Hamantaschen Here:
Paula Shoyer's Lemon Hamentaschen (Hamantashen)
The Kosher Baker sure knows how to make hamantaschen, you must try her unique lemon filling or use store-bought lemon curd.  Her dough is pareve and delicate and perfectly delicious. 
Cause everyone knows someone who needs to go gluten free, this is the answer. 
Because every top 10 list needs some chocolate, this recipe not only has chocolate in the dough but uses a junior mint as the filling.  If you don't like mint use a Hershey kiss or a peanut butter cup. 
This simple recipe has some step by step photos to help out novice hamantaschen makers. 
Make the best cookie dough and you will have the best hamantaschen. 
While, not very traditional, savory hamantaschen have been all the rage the last few years, from Thanksgiving flavored to Smoked Salmon or Ground Beef Puffs, to pizza with savory homemade dough. 
Spelt Hamantaschen with Halva Filling
Finally, last, but not least, a whole grain hamantashen.  A modern twist with an Israeli filling and a healthier spelt dough. 
Now for our hacks.  
Lemon Meringue Pie Hamantaschen
No need to make your own cookie dough, just use store bought pie dough, lemon pie filling and garnish as you like. 
Dressed Up Hamantaschen
Don't want to bake at all? Go ahead and dress up your store-bought hamantaschen with powdered sugar or drizzled chocolate.  You can also dip one-half of each hamantaschen in melted chocolate. 
Click for even more Hamantaschen Recipes.
Happy Purim!!!