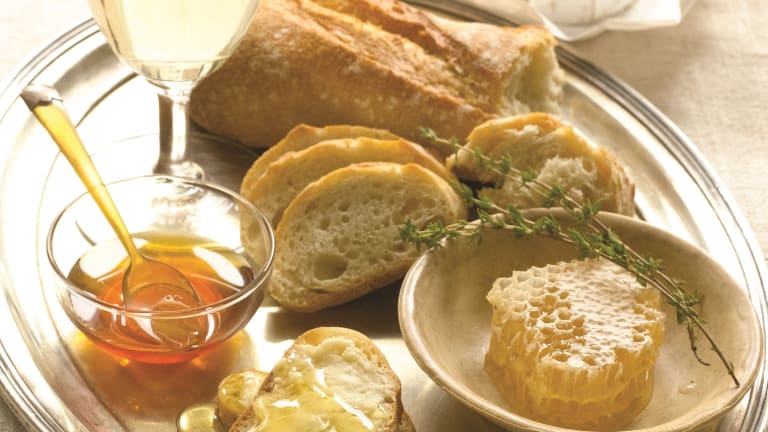 Yom Kippur Break-the-Fast Menu
After the Yom Kippur fast, try these quick and delicious break-the-fast recipes. Make sure to have all the ingredients on hand in your kitchen before the fast begins, so you can whip up these elegant dishes in just a few minutes. 
On this break-the-fast menu: 
Brie with Infused Honey and Crusty Bread
Mediterranean Jack Omelet
Skillet Potatoes 
Three Bean Salad
Poached Pears
You can also use this menu for brunch anytime!
Perfect for a small family break the fast or make a few omelets ahead and reheat to serve. 
Brie With Infused Honey and Crusty Bread
Brie is a favorite cheese made more delicious with delicious honey, it's delicious with a nice crusty baguette, but it's also good with bagels!
MORE: Make Your Own Bagels
Simple skillet potatoes are always a crowd-pleaser, for the best make-ahead potatoes try this special method for Zaatar Roast Potatoes.  
Quick and easy and just gets better when it sits in the fridge. 
Keep dessert light and sweet with poached pears and these quick Brownie Candy Cups go well on the side. 
For more Yom Kippur inspiration check out:
More Modern Break the Fast Recipes
Tips on How to Break the Fast from a Nutritionist
 Break the fast with these soup and salad combos
What is your favorite thing to eat after a fast? Tell us in the comments.