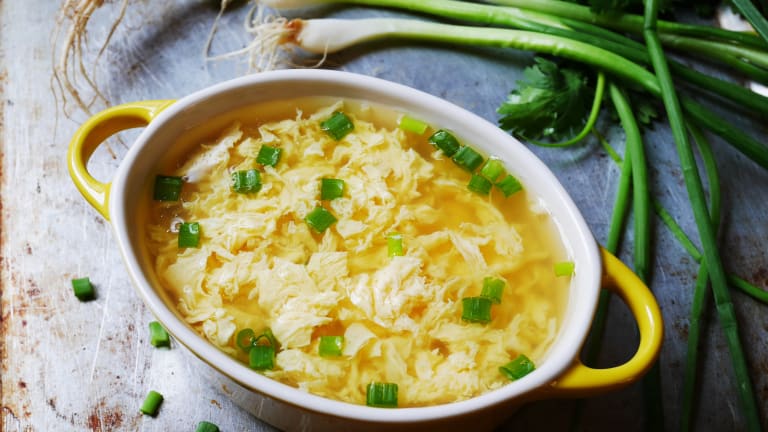 Kosher for Passover Chinese Seder Menu
Last year was my first year hosting a Passover Seder.  We finally live walking distance to my brother and his family and it allowed us the opportunity to be together and trade nights.  They hosted the first night and we hosted the second.  In the past, when we all went to my Abba's house, we would complain about the turkey and brisket he made every year, even when it was delicious (which it usually was).  "Try something new," we would whine.  He replied, "you will see how hard it is to try something new when you have 6 house guests for a 3 day Yom Tov including two Seders and no one living in town to help with the cooking."  Okay, point taken.
I don't have house guests and only have to host one Seder, so that means I can get creative.  Especially since I had the second night, I wanted to make sure I made something different from my sister-in-law, who is a very hard act to follow anytime of year.   Instead of negotiating, I created this amazing Chinese feast that I knew would be one of a kind.  (note - they now make kosher for passover no-soy soy sauce)
A Seder has to start with matzo ball soup, right?  I just took it from the Lower East Side to the Far East with this Egg Drop Matzo Ton Soup.  You don't even really need good chicken broth, even a box or mix will do, and I like to use the Egg Drop Soup Mix (the kosher for Passover one of course) to help thicken the soup before adding the egg.  The matzo balls come out light and fluffy with a tasty ground beef center.
For the main course, I made an Orange Beef and Broccoli using orange marmalade and fresh-grated orange peel for a real flavor enhancer.  I adapted this Cashew Chicken recipe slightly for Passover by using kosher for Passover soy sauce and leaving out the sesame oil.  I created this Vegetable Fried Quinoa that is great for all year round and a filling side for any vegetarians you may have over.
For dessert, I didn't have anything Asian, no kosher for Passover fortune cookies, I stuck with Matzo Crunch and Marshmallow Frogs.  Everyone was full by then and were happy for just a light sweet taste before we finished the Seder.  Cut up oranges and pineapple would work well, too.
I know this menu might be too non-traditional for some, but in my mind it is the perfect way to change up the second night. What do you like to do to change things up?