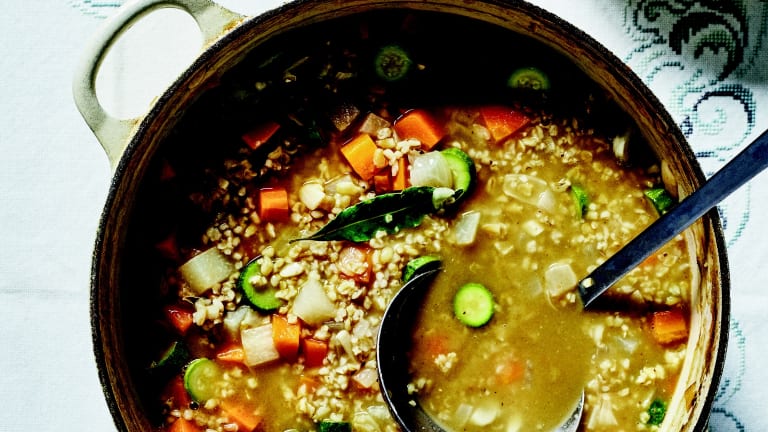 A Healthy Shabbat Dinner Menu
Whether your soft spot is kugel, potato salad or Challah-- or something else entirely, every Friday and Saturday presents the temptation to overindulge and pack on the pounds. 
Don't let Shabbat dinner sabotage your healthy eating plan!
Follow this simple dinner menu loaded with yummy healthy recipes and these easy tips to enjoy everything on Shabbat without sacrificing your health. 
Tip 1
Color your table
Start your meal with veggie appetizers like an Israeli salad, pickles, matboucha, sliced cucumbers and cherry tomatoes. Because you and your guests have nowhere to be, the meal could last for hours, and surely rack up the calories. By filling up on low calorie veggies you are less likely to overeat during the main course of the meal. Try this Israeli inspired leafy green salad, filled with flavor and nutrients but light on calories and/or if you're more of a soup person, try this Vegetable Freekeh Soup to start your meal. 
Israeli Inspired Chopped Salad
Tip 2
Roast it
Swap out traditional brisket for a roast and trim 1/3 of the calories and half of the fat. Roasts are delicious and super easy to make. This no mess, no fuss recipe will surely be your go to week after week! The last ingredient is your choice so you can
switch it up each week!
Tip 3
Go for the (whole) grain
Swap out couscous, yellow or white rice for whole grain and add some slivered almonds and sweet dried cranberries for some crunch, flavor and visual appeal. Plus you'll get a boost of protein and omega 3's from the almonds and antioxidants from
the dried cranberries.
Brown Rice Pilaf with Dried Fruit
Tip 4
End on a sweet note
Oftentimes when dessert rolls around my guests favor fruit over decadent treats, after all we have been eating for hours! Save yourself some time and calories with this easy and light fruity jello.
Get more ideas for keeping Shabbat healthy in our article:  Healthy Shabbat Recipes to Try