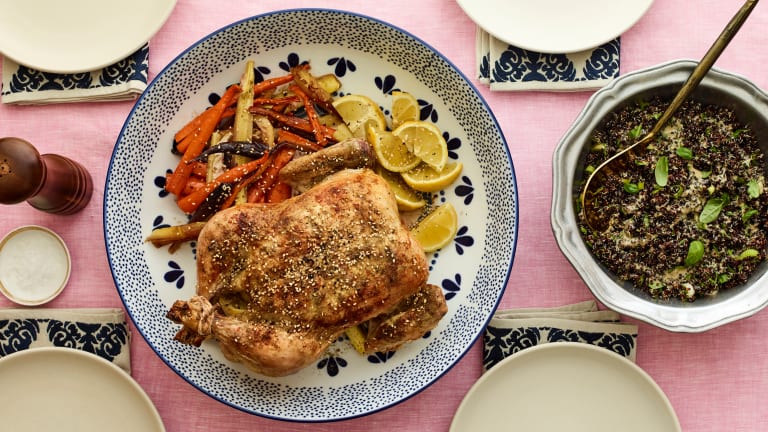 Healthy Shabbat Recipes You Must Try
Shabbat can be tricky if you are looking to stay on a healthy diet.  Some say the average Shabbat food can go over 6,000 calories!!! With all the kugels, cakes, meats and meals it adds up fast. 
It is possible to stay healthy on Shabbat, you just have to think and plan a little bit differently.  
When you join our Fresh Families healthy meal plan your healthy Shabbat meals come planned for you, complete with whole wheat challah, healthier kugels and even dessert.  Sign Up Here. 
Friday Night:
Shabbat dinner is a great time to feature healthy dishes that can fill your family and your guests with wholesome goodness. Here are a few recipes to help you create a healthy Shabbat dinner.  
Start off with whole grain challah, we love this Spelt Challah, a great alternative to traditional wheat challah with more fiber and nutrients, or go for a less traditional bread, such as Whole Wheat Pita with very little sugar and oil. 
Moving on to the soup course...
Traditional Chicken Soup is totally healthy, but if you're looking for a change try Barley Lentil Soup.  It is the perfect healthy option that is full of flavor so even the younger and pickier eaters will enjoy it and the best part is, if all they eat is soup they won't go malnourished.  
For your fish course...
Baked Salmon Croquettes, these are baked and don't have all extra sugar added to gefilte fish, plus the salmon means more Omega 3s. 
A Fresh Basil Salad is a gorgeous side to accompany your fish and/or serve with the main meal, the more vegetables on the table, the more vegetables will get eaten and it's great filler of foods you really can't eat too much of. 
For the main...
With this Za'atar Chicken with Carrots you get everything you need for a healthy main and it only uses 4-ingredients!  Add on the black quinoa side and your main course is served.  
For dessert any simple fruit salad or poached fruit is always better than cakes and cookies, we love this Summer Fruit Medley With Cinnamon Ginger Reduction, but we also love chocolate and these truffles are easy and healthy. 
Shabbat Lunch:
For Shabbat lunch take it easy and reheat the leftover salmon croquettes and add the fresh basil salad if you have any left. For the main dish and sides...
Try a Healhtier Potato Cauliflower Kugel or Cauliflower and Broccoli Kugel Cups.
They are both huge crowdpleasers! 
Cholent!!!
Consider a Healthier Root Vegetable Cholent Slow Cooker Stew or our Middle Eastern Chicken Cholent and for extra protein try Balsamic Roast Chicken Breast. 
For dessert you can serve more Summer Fruit Medley With Cinnamon Ginger Reduction. The longer the fruit sits in the juices the tastier the dish is or try Mandel Bread, it's always a healthier cookie!!  
L'chaim to a healthier shabbat!!