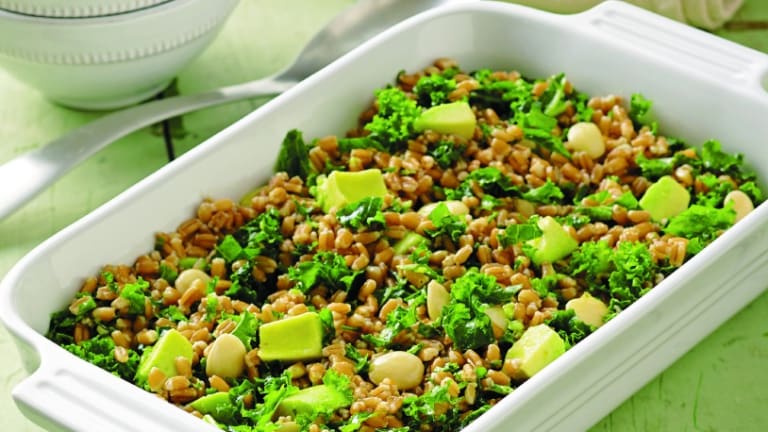 A Shabbat Pre Fast Menu
When Tisha B'Av falls on Shabbat the fast is postponed to Sunday and when it falls on Sunday, it stays on Sunday, either way, this means there will be no seduah hamafseket.  
The fast begins before Shabbat is actually over, but you will eat a full meal to get ready for the fast.  Most say you can eat meat and drink wine at the meal since it is still Shabbat, but I don't recommend wine and prefer a lighter filling meal before a fast.  
This menu is easy to prepare before Shabbat and can be served at room temperature. It is satisfying enough to hold you over through the fast.  Remember to drink lots of water, that is really the most important factor in having an easy fast. 
Note, it's best to hold back on foods very high in salt even for lunch on Shabbat, but we kept this meal dairy-free so everyone can enjoy. 
A simply prepared poached salmon is one of the best prefast main courses you can get.  It keeps the sodium low and doesn't have any spice, but is still delicious and filling. 
The whole grains of the farro will keep you full longer and so will the healthy fats from the avocado.  
I love including watermelon particularly in the Summer before a fast it is filled with water so will help keep you hydrated.  It is also extremely versatile and can be used as a first course, a dessert or side dish. 
GLUTEN FREE PEANUT BUTTER CHOCOLATE CHIP COOKIES
You can stop with watermelon but I get the sense a lot of people like to enJOY their dessert before a fast.  Go with something small, but filling, anything with lots of nuts and not too much sugar would probably be your best. 
Let us know what you plan to eat before the fast.