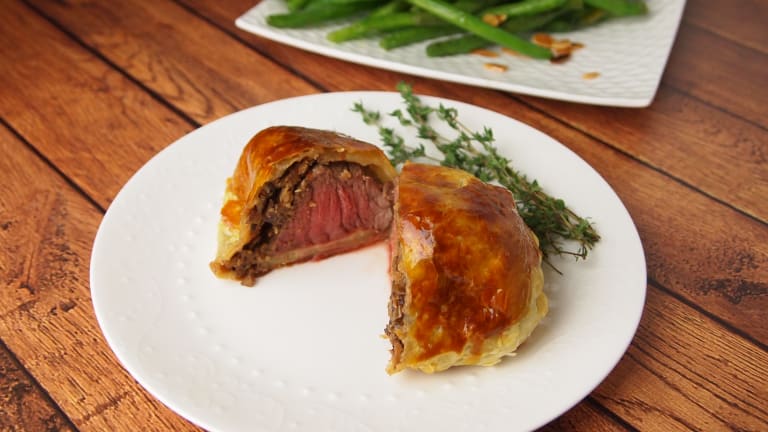 Swingin' Sixties Seudah - A Hippie Purim Menu
I don't know what it is, but suddenly I'm nostalgic over an era I never even lived through! 
I love the music, the handmade clothes, the beads and the spirit. 
And this year, we're going back to the garden.
Let's celebrate Purim like it's 1969!
My daughter will make me a rainbow loom hippie head band and we will put together mishloach manot in tie dye bags with Ambrosia Hamantashen. For these hamantashen I added dried coconut to the dough and made a filling of Homemade Marshmallow Fluff mixed with Orange Marmalade and topped with a half of a maraschino cherry. We will add some homemade granola and fresh fruit and send it with peace, love and happiness.
For the Seudah, we will serve a classic 60's dish that just happens to be the perfect "hidden" food, Beef Wellington. I made this version in individual portions using a homemade vegan pate, you can prep ahead to make it easier on Purim Day.
Serve alongside an all-time vintage favorite, Green Beans Almondine.  Keep the green beans crisp, by cooking them just a little -- until they are bright green.
Don't miss the Lava Lamp.  A symbol of the psychedelic era turned into our beverage of choice for this 60's party. Make it with or without alcohol so everyone can enjoy.
Happy Purim!!