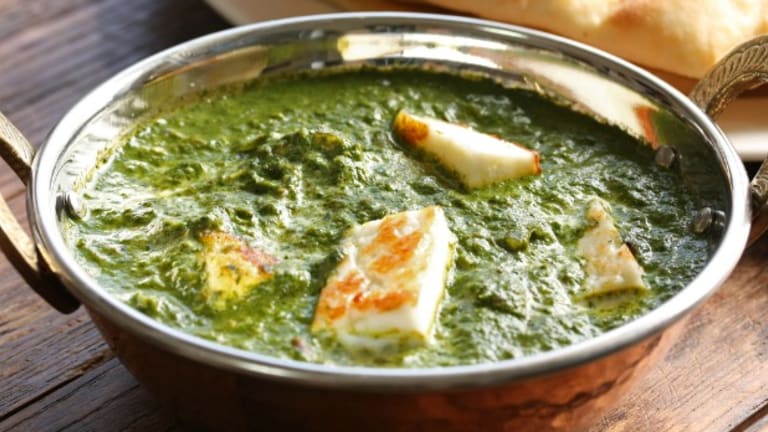 Dairy Indian Recipes To Spice Up Your Menu
Just in case you didn't notice, you can actually sort by cuisine on this site.  So, when you are in the mood to try something different or something not so different, in any cuisine we got you covered.  Today, we were thinking it might be fun to travel to India.  In Indian cooking they use a lot of dairy.  Whether it be in the flavorful clarified butter called ghee which they use in most their dishes, the cream, or the paneer cheese, a dairy Indian menu is a wonderful way to spice up your Shavuot, especially since these foods sit well (think Indian buffet).
You can definitely substitute regular butter for ghee, but there would be something missing and if you are going dairy, go all out.  Ghee is a clarified butter that you might find in the store, but is just as easy to prepare at home.  To prepare ghee, butter is melted in a pot over medium high heat. The butter begins to melt, forming a white froth on top. It is then simmered, stirring occasionally and the froth begins to thin slowly and the color of the butter changes to a pale yellow shade. Then it is cooked on low heat until it turns a golden color. The residue solids settle at the bottom and the ghee, which is now clear, golden and translucent and fragrant, is ready. The ghee is then filtered, and it will solidify when completely cool. Ghee can be stored for extended periods without refrigeration, provided it is kept in an airtight container.  (from Wikipedia) Here is a step by step photo guide to making your own ghee.
On to paneer, the delicate, soft cheese abundant in Indian cooking.  It actually looks a lot like tofu and for a meat meal can easily substitute, but of course it will lack the creamy depth of flavor that comes from paneer.  To make your own paneer all you need is whole milk, lemon juice and cheesecloth.  
Now that we have the ghee and paneer you might still need a quick trip to the spice market for mustard seeds, cumin seeds, coriander seeds and the list could go on, check the recipes you choose before you go. If you buy them whole they last longer.
Check out all our Indian recipes here and this is a selection of dairy recipes to get you started.
SPICY VEGETABLE STEW WITH CALIFORNIA RAISINS (SAMBHAR)
PALAK PANEER (SPINACH AND CHEESE)
APPLE RAISIN CHUTNEY-FILLED BRIE (SEV PANEER)
ALMOND ORANGE CARDAMOM COOKIES
Have you cooked Indian before? Let us know any recipes you are looking for, whether dairy, meat or parve.  We plan to have more Indian menus and other cusine centered menus to come.