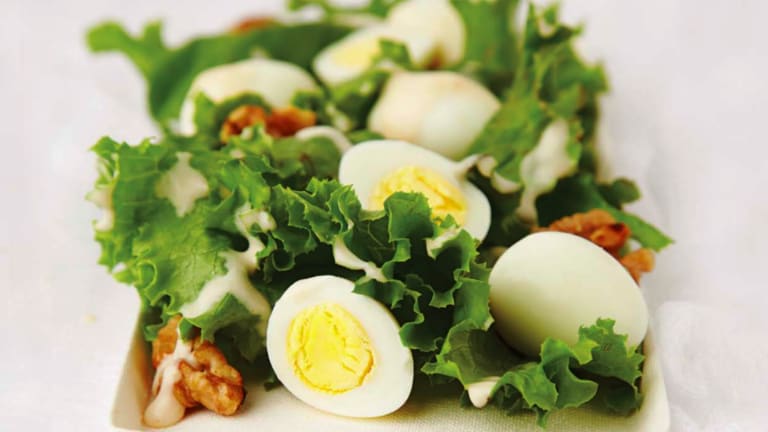 The Breakfast For Dinner Menu That Will Change Your Week
I am not really sure anymore how to define breakfast food.  In my house I happily give my daughter her leftover cheesy pasta for a quick breakfast or even some leftover broccoli potato kugels.  We eat hash for dinner with an egg all the time (another great leftover trick) and grilled cheese with harissa is a mainstay any time of day.  
I know many people love breakfast food, casseroles, french toast, pancakes and eggs and if you limit yourselves to breakfast when there is no time to cook or eat you will really miss out. 
Here is a hearty menu of foods you can feel good eating any time of day, make extra so you can eat the leftovers for breakfast. 
MORE: A Healthy Brunch Menu
This is a wonderful make ahead recipe that really is a meal in itself. Perfect for breakfast or as the featured part of a larger brunch or dinner menu. 
MORE: Make Ahead Breakfast Ideas
HEARTY SALAD WITH EGGS AND MUSTARD GREENS
Salads really should be eaten more with breakfast, but if it is not your think in the early hours, then it is perfect for your breakfast for dinner menu.  This salad with hard boiled eggs will surely do the trick. 
The kids might not like the greens, but they will love mini eggs, a great kid friendly idea with less waste. 
MORE: Mustard Green Recipes
The best way to end your breakfast for dinner is with the flavor of chai or coffee.  Since it is evening I am suggesting chai in the form of cupcakes, but if you want something stronger, try this Turkish Coffee Cake.  
Want stories like this delivered right to your inbox? Sign up now for our Joy of Kosher weekly newsletter.