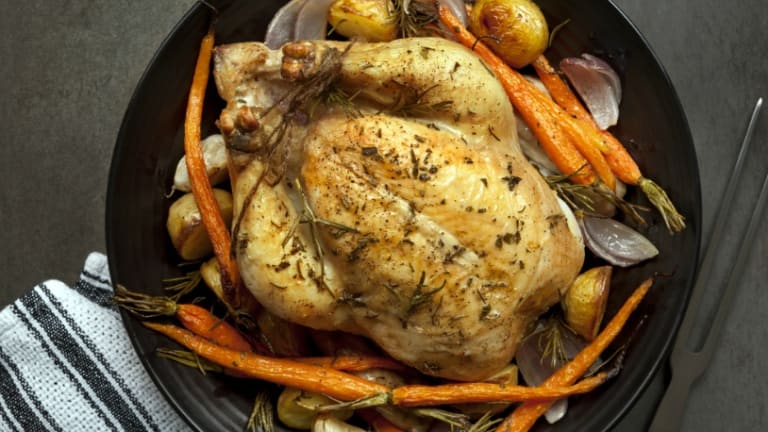 The Pre Fast Menu That Will Keep You Going for 25 Hours
The day leading up to Yom Kippur is a busy one, but you can't forget to drink lots of water.  The best way to make it through the fast easily is by drinking lots of water the day before.  
The next best way is to eat a hearty and delicious meal that is not too salty and not too spicy, but flavorful and satisfying.  This year I recommend a winner winner chicken dinner. 
I don't like to have a first course for this meal, the focus should be on drinking and a main meal that is nutrient dense.  
I love this recipe for Chicken in a Pot, because you can prep it all in advance and then place in the oven an hour or so before you are ready to eat.  Instead of the matzo balls I usually add to this dish, try Kreplach, which is a traditional food to eat before Yom Kippur.  Add them during the last 20 minutes of cooking so they don't overcook. 
MORE: Yom Kippur Menus and Ideas
Make a hearty bread to serve alongside the one-pot chicken dinner, oats are healthy and increase fullness. 
For dessert I think it is best to have something with fruit, so either a fruit salad or a crisp are my favorites and both go well with non dairy vanilla ice cream.
Wishing you an easy and meaningful fast.