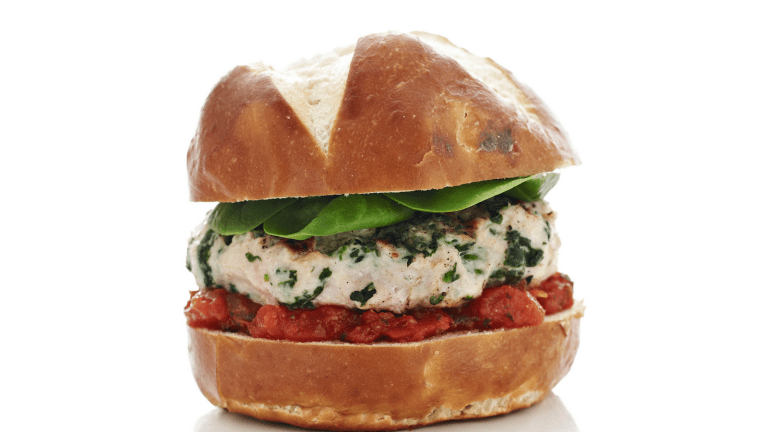 5 Ways to Cook With Ground Turkey
Ask Us: We just started buying more ground turkey. Any ideas? I've already done a few varieties of turkey meat balls.
Answer:
Most recipes that call for ground beef can be made with ground turkey instead and anything that calls for ground chicken can be made with ground turkey.  Just be aware that it is leaner, especially if you are using white meat only, there is very little to no fat in the meat, so some foods will be drier.  Therefore I like try recipes that are filled with texture and flavor and/or sauce.
Years ago I made my first turkey burger after watching this recipe on Rachael Ray.  I found that adding veggies, like peppers and green onions helped to keep the leaner turkey burger moist.  The addition of curry spices added a really nice flavor and using mango chutney instead of ketchup on top was the perfect match.
We have another 13 recipes for all kinds of Turkey Burgers including Jamie's Spinach Turkey Burger pictured in the main image.   In general you will see they tend to have more flavor and more veggies added than traditional beef burgers.
TURKEY SPINACH MEATLOAF WITH TOMATO SAUCE
Turkey meatloaf is another great way to cook with ground turkey that is also great to make ahead.  This recipe above is even made in the slow cooker and is incredibly moist with the addition of the tomato sauce.  Most meatloaf recipes will work with turkey or a blend of turkey and beef is also an option, but again make sure to keep it flavorful and add veggies for more texture.
Another use for ground turkey is to make egg rolls or even wontons for soup.  Both of these can be made ahead and frozen too, which can be really nice.
Meatballs with turkey are a no brainer.  Use your favorite recipe or anything nice and saucy and just sub in the turkey or follow the recipe above for either meatballs or light and healthy lettuce wraps.
TURKEY SHEPHERD'S PIE WITH SWEET POTATO TOPPING
You can also make all kinds of casseroles, stews, chili and even Mexican burritos using ground turkey instead of beef.  Here Susie Fishbein makes a Turkey Sheppard Pie with a sweet potato topping.
What do you like to do with ground turkey?